WORKFORCE: ARRIVAL OF BIG COS. CHANGES LABOR MARKET
San Diego Tech Cos. Need to Hold on to Those Hires
Monday, July 15, 2019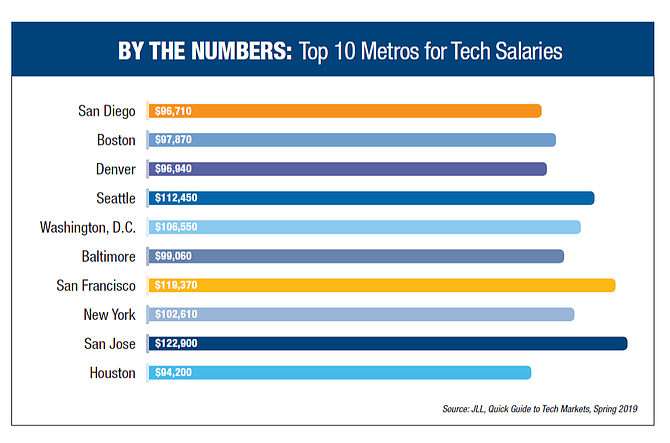 Tech companies in San Diego should prepare for a coming storm. With high-paying companies such as Amazon.com Inc. and Apple Inc. coming to town, local firms will need to step up their efforts if they want to recruit and retain their top employees, local recruiters said.
"Eventually, this is either going to make or break our market," said Kelly Feest, managing partner of San Diego-based Proven Recruiting. "If a company loses 10 people to a big shop and they can't provide something advantageous to the next 10 hires, your door is going to close quick."
Amazon and Apple both announced last fall that they would open offices in the San Diego area. Since then, the two companies have ramped up their hiring efforts. Amazon is currently hiring for 81 positions in San Diego, with a large number focused on software development, and a smattering of more specialized roles, such as machine learning scientists. Apple's 74 openings in San Diego include a combination of hardware and software engineers, which appear to be largely focused on its wireless business.
A number of local businesses have also stepped up their hiring, further pinching a competitive market for talent. After settling its lawsuit with Apple, Qualcomm appears to have ramped up its hiring, with more than 400 openings in San Diego. Teradata, which recently shifted its headquarters from Ohio to Rancho Bernardo, is also building out its workforce, with 93 openings posted in San Diego. And fresh off of late-stage funding rounds, software startups Kyriba, Tealium and Brain Corp. are also chasing after local tech talent.
In total, San Diego's tech employment has grown by 9,600 people in the last five years, according to a recent report by commercial real estate service firm JLL. San Diego ranked 20th in the U.S. for total tech employment, with a total of 52,200 people working in tech.
Kyle Houston, Robert Half's San Diego branch manager, said most local companies aren't paying enough attention to job boards and hiring data. He expects a "round robin" effect as incoming tech firms try to poach mid-level engineering talent, and local companies try to retain it.
"I'm less concerned about what Apple and Amazon are going to do, and more interested in what are these mid-market companies in San Diego going to do to attract talent when they're competing with the big brands," he said. "I'm still amazed, week in and week out I meet with people who just aren't acting with the urgency or the preparation that they need to."
Your Neighbor Is Cooler
For most companies, the sticking point will come to salary. Feest said to expect a roughly 20 percent gap between high-paying tech companies and the general market. For example, she said Intuit's and ServiceNow's local offices might have competitive salaries with Amazon, but companies headquartered here might have a harder time justifying the pay hike.
"A company that's based out of San Diego, they can't make a case to their compensation team because that's all they've ever done and all they've ever known," Feest said.
While startups might be able to sell a candidate on their culture or future promise, established tech companies will have to work harder to bring people to their doorstep. They might have to bump up their pay, offer more inclusive benefits, or flexibility with remote work, as most candidates have two to three offers.
"Before, companies would say, if they really want to work for us, they will," Feest said. "You're cool, but your neighbor is cooler."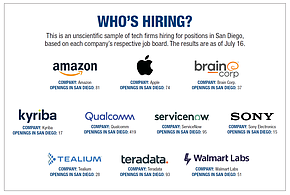 The Pay
The average annual tech wage in San Diego was $96,710, according to JLL, putting it just behind Denver. Interestingly, San Diego tech employees fetched higher salaries than their Los Angeles counterparts, where the average tech wage was $94,110. Employees in San Jose saw the highest pay, at $122,900.
Houston said companies should conduct a quarterly compensation analysis, as the market is shifting quickly in San Diego. But beyond pay, they should also look at what else they have to offer their employees in terms of new skills, and consider training up less experienced talent.

"In tech, so often people are looking for someone who can hit the ground running," Houston said. "That's the quickest way to turn over your staff. They're not going to have room to grow their career."
Cost of Living
It's impossible to talk about companies' ability to recruit in San Diego without looking at the cost of living.

Amber Schiada, director of research for JLL's southwest region, said housing costs can be a challenge for bringing tech workers to San Diego. That, coupled with a lack of housing development in the pipeline, poses long-term challenges for California cities.
"In California, the high cost really prohibits development in some cases. Or, the kinds of units being delivered are not affordable for a recent college grad," she said. "Millennials, they're trying to figure out if I'm getting married and if I'm going to have kids, where am I going to buy a house?"
The high cost of living and awful commutes has led to an outflowing of tech employees, some of whom land in San Diego. In the past few years, net migration in the Bay Area has been negative, meaning it is losing more people than it is gaining. But San Diego also faces negative net migration rates; as people move here from Orange County, several are also leaving for Riverside and San Bernardino counties, according to U.S. Census data.
Affordability Is Still an Issue
Houston said with the cost of living at 46.9 percent above the U.S. average, and the average tech wage at $96,000, "I just don't see people in the middle class seeing that as sustainable for them."
"I think the next few years will be pretty telling for us," he added. "We're going to have to increase compensation if we expect to keep younger talent."
Several new apartment buildings are popping up around UTC, downtown, and Chula Vista, but it's still not enough, Houston said. Even for younger workers, who are looking to rent rather than own, affordability is still an issue.
"The younger generation, I think they're being compensated well. In a market like San Diego, it's probably not enough," he said. "There are very few of them living independently in San Diego. They all have roommates. … Rent costs are increasing exponentially year-over-year."
From a recruiting perspective, however, Feest said she doesn't lean too heavily on the cost of living when bringing workers from the Bay Area to San Diego. Instead, she focuses more of lifestyle changes, such as being liberated from a soul-crushing two-hour commute.
"People don't move from the Bay Area to San Diego to make more money. Maybe they save a little bit more," she said. "You have to go a little farther than San Diego to make a difference in cost of living. If you can't see the water, you're doing better."
Long-Term Payoff
Even if the next few years are a challenge for San Diego tech companies, in the long term, the increased competition should bring in more talent as a whole. Even if the new entrants to the market poach local talent, they will also recruit workers from other markets. Eventually, Houston said, some of those workers will turn over and bring their skills to other companies in the area.

"I think the next couple of years will be a little bit bumpy for them, for the mid-market, as more tenured talent starts making its way to these brand names," he said. "My hope is fast forward five years from now, we'll have a significant increase in tech talent in San Diego."