Sony Launches $185 Million Tech Fund
Sunday, July 14, 2019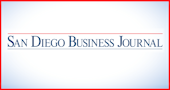 Three years after stepping back into corporate venture capital, Sony Corporation is upping its investment into promising tech startups. The Japanese tech conglomerate announced plans to create a new fund, Innovation Growth Ventures Co., with a goal of raising 20 billion yen (the equivalent of roughly $185 million).
Sony is headquartered in Tokyo, with one of its core businesses, Sony Electronics, based in Rancho Bernardo.

Sony is establishing the fund with Daiwa Capital Holdings Co. Ltd., a subsidiary of Daiwa Securities Group Inc. As of June, the fund had brought on its first limited partners, including Tokyo-based banks Sumitomo Mitsui Banking Corporation and Mitsubishi UFJ Lease & Finance Company Limited, and Osaka Shoko Shinkin Bank.
"Through its corporate venture capital activities to date, Sony has incubated the next generation of technologies and startups while promoting open innovation," Sony Executive Vice President Toshimoto Mitomo said in a news release. "With the establishment of this fund through (Innovation Growth Ventures), we hope to accelerate open innovation while contributing to social development."
After a tumultuous period for the business, Sony rebooted its corporate venture capital efforts with the launch of its Sony Innovation Fund in July of 2016. In the past three years, the fund has made a total of 40 investments in startups working with robotics, artificial intelligence, and other technologies relevant to Sony's expertise.
Innovation Growth Ventures will not replace the Sony Innovation Fund, but will focus on startups in "key high-growth industries."
Sony said it plans to ramp up its startup investments with the launch of the new fund.