ACC Adds San Diego to Bowl Destination for 2020-2025
Sunday, July 14, 2019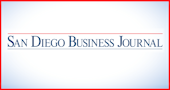 The Atlantic Coast Conference announced on July 11 it has an agreement with 13 bowl game destinations, including San Diego, for the 2020-2025 seasons.
According to the press release, the conference will now send a team to the San Diego County Credit Union Holiday Bowl.
"The partnerships provide our 15-member league premier matchups, enhanced financials and attractive destinations," said John Swofford, the ACC commissioner, via a statement.
In all, the ACC will have 10 guaranteed bowl berths annually from 2020-2025, according to the ACC website.
Travel & Hospitality reporter Mariel Concepcion can be reached at mconcepcion@sdbj.com or 858-634-4625.