Thirty Three Threads Sock and Accessories Company Signs Distribution Deal
Wednesday, July 10, 2019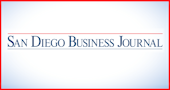 Vista-based Thirty Three Threads, a sock and accessories company, announced on July 10 that it signed a new distribution deal with non-slip Pilates Reformer towel maker, Salt & Honey. According to a press release, Thirty Three Threads will now sell Salt & Honey's microfiber grip products via more than 4,000 accounts in the United States and Canada as a result of the agreement.
"Our goal is to continue to develop our brand and product offering while becoming the premier supplier to the fitness industry," said Barry Buchholtz, president of Thirty Three Threads, via a statement.
Travel & Hospitality reporter Mariel Concepcion can be reached at mconcepcion@sdbj.com or 858-634-4625.