BIOTECH: LEGAL BATTLE IS AHEAD FOR COMPANY
Ra Medical Addresses Manufacturing Issues
Wednesday, July 10, 2019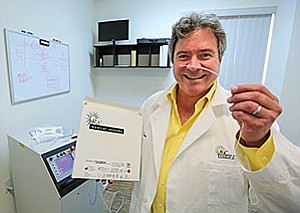 After a $66.3 million initial public offering in September of 2018, Ra Medical Systems has tumbled.
The Carlsbad company's stock in September debuted at $17 a share but at the end of June traded at $3.62.
Amid the plummet, there are positive signs. Analysts say the company — which makes laser systems for vascular and dermatology diseases — seems to have addressed manufacturing issues that weighed on sales.

But legal bills look to mount. Recently, the company filed a lawsuit arguing IPO interference. In turn, Ra Medical has been sued for allegedly withholding key information ahead of going public.
Ra Medical's Dabra laser technology reopens blocked arteries. In 2017, the technology won U.S. Food and Drug Administration approval for peripheral artery disease, or PAD, which can cause limb amputations
The company in May posted $1.7 million in quarterly revenue, beating Wall Street expectations. Still, its balance sheet showed a $14.7 million net loss during the quarter, largely due to stock-based compensation expenses shooting up compared with same period of the previous year.
Manufacturing Issues Addressed
Analyst Matt O'Brien with Piper Jaffray said manufacturing issues that plagued the prior two quarters are behind Ra Medical.
"The company has fixed its manufacturing problems and can now make as much product as demand can generate," O'Brien wrote in a May research note.
Ra Medical has also sought to rectify a shortage of trained sales personnel. The company, which declined to comment on this article, said in its latest quarterly report that it stepped up hiring and training, and shifted to developing long-term sales relationships.
O'Brien said the strategy seems to be working so far.
"Although a bit of faith is needed for investors to buy into the story at this point, we continue to believe the technology is real and will yield improving financial results in the coming quarters."
Long term, he was encouraged by Ra Medical recently launching a two-year clinical study that aims to show Dabra keeps arteries healthy long term.
Analyst Craig Bijou with Cantor Fitzgerald took a more cautious tone.
He said Ra Medical's first quarter was a step in the right direction, "but the company likely needs a few more quarters of solid execution to demonstrate that Dabra is gaining meaningful traction."
The company didn't say how much it expects in full-year revenue. But for context, Ra Medical posted $6.3 million in 2018 revenue and $5.9 million the prior year, according to financials.
But Ra Medical has more happening than an effort to turn around sales.
Legal Action
In May, the company sued rival Strata Skin Sciences and its board chair, Uri Geiger, for an alleged attempt to sabotage Ra's reputation with its financial partners before, during and after Ra Medical's IPO.
The lawsuit contends Geiger emailed potential financial partners with false warnings about Ra Medical so they would abandon the IPO. Among them was Piper Jaffray, the bank that ultimately led the public offering, and two that pulled out, UBS and OppenheimerFunds.

"These false statements had a substantial negative effect on Ra Medical's IPO, causing several key financial partners to back out of the IPO and delaying the IPO for several critical months," the lawsuit, filed in the U.S. District Court of Southern California, alleges.
Strata is based in Pennsylvania but it also has a research, manufacturing and sales presence in Carlsbad.
Last August Strata caught wind of a potential lawsuit. To try and head off the legal action, the company filed what's called a declaratory judgement in Pennsylvania arguing that it hadn't interfered.
But that didn't stop Ra Medical's federal lawsuit, which Strata's spokesman called an "attempt to forum shop."
Meanwhile, a June class-action lawsuit accuses Ra Medical of failing to disclose company issues around sales and manufacturing before the IPO.
"When the market learned the truth about Ra Medical, investors suffered damages," alleges the federal lawsuit, which names former shareholder Ervin Derr as the lead plaintiff.
David Crean, a managing director at Objective Capital Partners, said investors may be reluctant to support the company in the face of growing legal bills.

"I would find it hard to put money into that company knowing that funds that should go toward cleaning up manufacturing and sales are going for legal," said Crean.
As of March 31, Ra Medical reported $55.1 million in cash and cash equivalents.
Judging by real estate at least, since forming in 2002 Ra Medical has been on a steady growth curve. The company in December 2017 moved to a bigger space to meet increased demand, its fifth time doing so.
But now investor eyes are on second quarter results.