Incubator Shuts Down Amid Controversy and Pending Lawsuit
Tuesday, July 9, 2019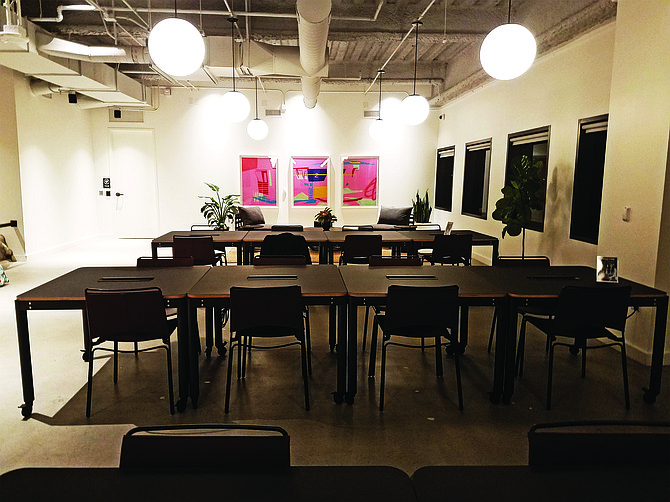 With its CEO and board members facing fraud allegations in a civil lawsuit, tech incubator ThinkTank Innovation Inc. shut down on Monday. The new incubator had moved into a space at WeWork Aventine in UTC, where it hosted its first cohort of startups last fall and had brought in its newest cohort just a month ago.
ThinkTank Founder and Executive Chairman Mark Bernier sent a message to the incubator's staff and participants early Monday, announcing ThinkTank and its programs would be closed, "effective immediately."
"Recently, I have communicated that a lawsuit was brought against VentureMoney, myself, the board of directors of VentureMoney and ThinkTank as well as others. Unfortunately, while the allegations do not have any merit, the public tactics being taken by the plaintiff have taken a significant toll on the business," said a message purported to be from Bernier obtained by the San Diego Business Journal.
The announcement left the 11 startups in the incubator scrambling, as they had been working out of ThinkTank's space in WeWork for the past month.

"It was a shock to all of us," said Mark Lee, Founder and CEO of Enroll Hero, a startup that helps seniors pick the best Medicare plan for their situation. "We have to try to figure out where we're going to work. There will be some expenditure of time there. We're 11 startups here that need to get back to working on our business and not worry about this stuff."
Other companies pulled out of the program earlier. Regenica Biosciences, a startup developing an antidote to nerve agents that was listed in ThinkTank's new cohort, said the company disavowed itself from the incubator weeks ago, after learning of the allegations. The company solely attended one meeting, where it toured the WeWork location where ThinkTank was hosted.
"We did not after that date engage in the programming whatsoever," Regenica CEO and founder Jack Fernandes said.
Lee said WeWork was allowing the startups to remain in the space until they could find other accommodations. He and the other founders in the program started a Slack channel to stay connected. Lee said they were looking for ways to continue to work together, ideally in a common space.
"It's really unfortunate. We think it's what San Diego needed, to bring together high-performing startups into one space," he said. "We're optimistic something will come along after this."
FRAUD ALLEGATIONS
Bernier faces fraud allegations related to his venture capital business, VentureMoney, which he had used as a means of funding ThinkTank's activities. In June, a California woman filed an amended complaint, claiming Bernier had scammed her into buying hundreds of thousands of dollars of unregistered securities.

The case, filed by Marieme Bougerba in the San Diego Superior Court, alleges that VentureMoney Management Co. CEO Mark Bernier sold her $600,000 in unregistered, non-exempt securities, despite having never been licensed with the state as an investment adviser or a securities broker.
In an email to the San Diego Business Journal, Bernier wrote that he had been forced to suspend the program's activities "due to a frivolous lawsuit" against VentureMoney, ThinkTank, and their respective boards. Both companies' websites have since been deleted.
"It is truly a shame that the plaintiff's tactics have led us to this point," he wrote. "I now must devote my time and resources to contesting the allegations in the lawsuit and to support each of the named defendants in clearing our names."
VentureMoney was formed in 2016 as a venture capital management company, according to documents filed with the California Secretary of State. Bernier is listed as the company's CEO and chief financial officer.
Bernier formed ThinkTank as a 501c3 business accelerator based out of WeWork's UTC location. In a previous interview, Bernier said VentureMoney had put $3 million into ThinkTank to launch the program.
According to ThinkTank's 2017 Form 990, the most recent financial document available, the organization received a total of $1 million in contributions and grants in 2017. VentureMoney Management was its sole donor.
ThinkTank launched its first cohort of startups in December, noting the program was free of charge and did not require startups to give up an equity stake. The company recently brought in a cohort for its foundry program, which it said provides companies mentoring and up to $1.5 million in investment from one of its affiliated venture funds, according to its website.
Bernier did not confirm whether VentureMoney had invested in any of the Foundry's startups. Enroll Hero said it did not give up an equity stake to participate in the program.
UNREGISTERED SHARES
Bernier had met Bougerba through a dating website, MillionaireMatch.com, in October of 2018, according to the complaint. That same month, he allegedly recommended that she sell holdings in her retirement accounts and buy unregistered shares in VMC Holdings LLC, a holding company for VentureMoney. Bernier was the sole board member.

A term sheet for VMC Holdings "indicated Bernier intended to keep $500,000 to cover operating expenses and management fees related to the company," according to the lawsuit.
Bougerba wire transferred a total of $400,000 to Bernier's personal bank account between October and November for the VMC Holdings securities, according to court documents. In late December, Bernier allegedly convinced her to invest another $200,000 in Casco Bay Capital LLC, another one of his companies. She transferred the funds to Casco Bay's account in January.
"The paperwork that was filled out indicated that a lot of the money that was going into these firms would be used to pay entities that were controlled by Bernier. She was not told where the money went, how it was invested or if it was invested at all; it just paints a picture that we don't like," Bougerba's attorney, Charles Field of Sanford Heisler Sharp, said. "You would think if they had invested the money, that they would at least tell the shareholder where the money is."
Bougerba had originally filed suit against Bernier in February. Field said they had agreed to mediate the case, hoping to reach a settlement. Following that, Bernier returned $200,000 to Bougerba.
In May, Bernier and his attorney filed a motion for arbitration and to stay any further proceedings, saying the purchase agreements Bougerba had signed had "unambiguous and fully-enforceable arbitration provisions."
The amended complaint, filed on June 18, makes 12 allegations, including securities fraud, breach of contract and operating as an unlicensed securities broker. Bougerba is seeking compensatory damages, punitive damages, for the purchase of securities to be cancelled, and for injunctive relief.
VentureMoney's directors and officers were also named as defendants in the case.
Bernier's attorney, Logan Smith of McNamara Smith LLP, wrote in an email that Bernier "vigorously denies the allegations."
He added that the amended complaint was made in violation of a court-ordered stay, and included "numerous community leaders who had nothing to do with the transactions at issue."
"The plaintiff's attempt to litigate this case in the press betrays desperation. Mr. Bernier will not stoop to the plaintiff's level," he wrote. "He looks forward to clearing his name in court and dismissing this abusive lawsuit."