COMPANY LICENSES OUT ITS SOFTWARE ON A SUBSCRIPTION BASIS
Nanome Creates Platform To Visualize Molecules In 3-D Interface
Tuesday, July 9, 2019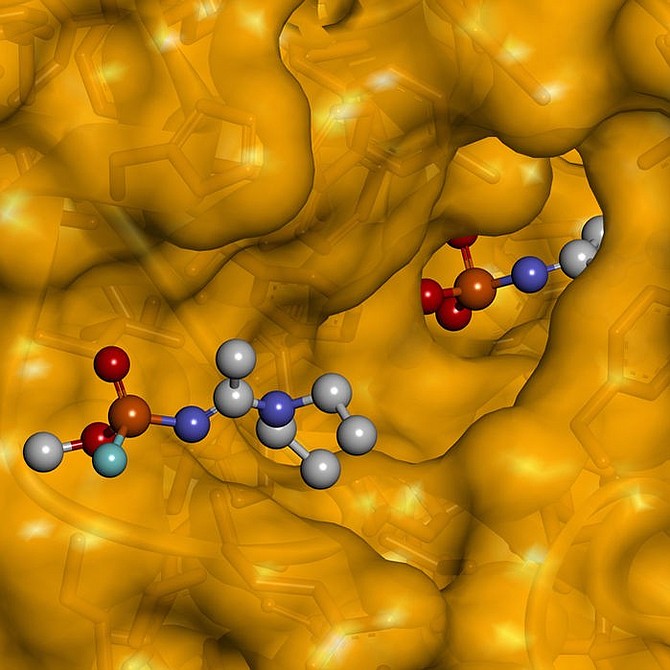 While pursuing his degree in nanoengineering program, Nanome founder and CEO Steven McCloskey had an idea: Why not create a tool that makes it easier to visualize molecules, using computer graphics?
"I thought (computer graphics) needed more of a place in engineering," he said. "I ended up getting into virtual reality. I thought there would be some benefits in having a 3-D interface."
McCloskey was able to realize his dream by creating a software platform that allows users to view molecules in 3-D through a virtual reality headset. Strap on a pair of glasses, and a protein is suspended above, with the ability to view every fold and contour of its surface, or the helixes that make up its structure.
UC San Diego Connection
That led to the creation of Nanome, a startup founded by a group of UC San Diego graduates. McCloskey and fellow UC San Diego alumnus Keita Funakawa founded the company in 2015 after they met at a VR film festival. Funakawa, who has a background in media and computer science, said that he thought the project provided a unique way for scientists to communicate.

"How will next generation use new molecules and new materials? I just thought this totally makes sense as the way of the future," Funakawa said.
Replacing 2-D Monitors
Most researchers use 2-D monitors in drug development, with a model that they rotate and try to mentally visualize in 3-D. With Nanome's technology, they can use a VR headset to view molecules in 3-D, making the drug discovery process a bit easier.
"What's interesting from users we've been talking to, our tool, because it's so intuitive and VR brings this whole new dimension, it gets everyone on the same page," Funakawa said.
He and McCloskey bootstrapped the company for the first few years. In 2017, as the platform began to drum up more customers and investors, Nanome was able to expand its platform, McCloskey said.
The company licenses out its software on a subscription basis to pharmaceutical companies, as well as teachers and researchers. Funakawa said the company gets most of its business from the enterprise and pharmaceutical sector, but universities and even just curious users also download its platform on VR app stores. For its more enterprise customers, Nanome also develops products with more security features.
"One day we have meetings with Big Pharma customers that are looking at breakthrough therapeutics solutions," he said. "The next day we are having a conversation with a K-12 teacher that wants to show a benzene carbon ring to their students."
Nanome recently co-authored a paper on its platform's use for drug discovery with the Novartis Research Foundation's Genomics Institute. It was the culmination of a few years' of work between Nanome and Novartis.
So far, the company has drummed up a total of $3 million in funding, including an investment from local angel investor Taner Halicioglu's fund, Keshif Ventures, and early-stage venture capital firm Sparkland Capital. The company previously went through HTC's Vive X accelerator program, and is currently in Johnson & Johnson's JLABS incubator.
Nanome is currently in the process of raising another round, including an investment from Japanese gaming company Colopl's fund, Colopl Next.
The company is also building out a blockchain-based platform, Matryx, to encourage collaboration in research.