BOARD WILL SELECT NEW LEADER; RUSSELL WILL LEAVE IN JULY
Startup San Diego's Executive Director Leaving for Bay Area
Sunday, July 7, 2019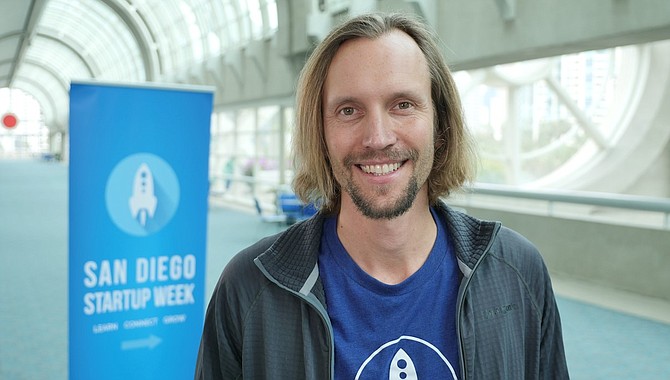 Jarrod Russell, Startup San Diego's first full-time executive director, will leave for the San Francisco Bay Area this summer.
Russell joined the organization as its first paid employee in August of 2018. He led the organization through Convergence and San Diego Startup Week this spring, with the latter being held at the San Diego Convention Center for the first time.
After calling San Diego home for the last 30 years, Russell will move to the Bay Area to be closer to his partner, Katie. He plans to stay in San Diego through July, where he will help prepare Startup San Diego for the organization's future.

"It was not a decision I took lightly, but ultimately felt like the right decision for my own health and fulfillment," Russell wrote in an email. "That said, I am 100% committed to supporting a healthy transition and have so much confidence in this organization's future. I am honored to have played a role in that momentum and will be a steadfast supporter and volunteer when I formally transition out of my role in July."
Startup San Diego's board will pick a new executive director, and plans to open applications for the position soon. The 501c3 nonprofit was formed in 2015, consisting entirely of volunteers who helped put on San Diego Startup Week and other events to help entrepreneurs. As San Diego's startup scene has grown, so has Startup San Diego. This May, the organization prepared for its largest ever Startup Week, bringing in more than 3,000 people with events spanning Tijuana to Carlsbad.
Russell said he plans to come back to visit San Diego, and also hopes to be able to direct more entrepreneurs and investors to the San Diego area.

"I've been joking that I will also be a great recruiter here in the Bay Area... If I hear a startup founder or developer complaining about life in the Bay, I'll tell them to check out San Diego. If I meet an investor looking for more deals, I'll tell them to check out San Diego. Since Startup San Diego is the front door to the startup community, helping to support collaboration within the entire ecosystem, I know just where to send them," he said. "I deeply believe the future is so bright for our region — and I hope I had some role in helping folks feel that too!"