SUSTAINABILITY: ENERGY USAGE DATA WILL DECIDE OPTIMAL CHARGE, AND DISCHARGE TIMES
SAN Is First Airport In Nation to Install Battery Energy Storage System
Originally published July 7, 2019 at 3 p.m., updated July 7, 2019 at 10:15 a.m.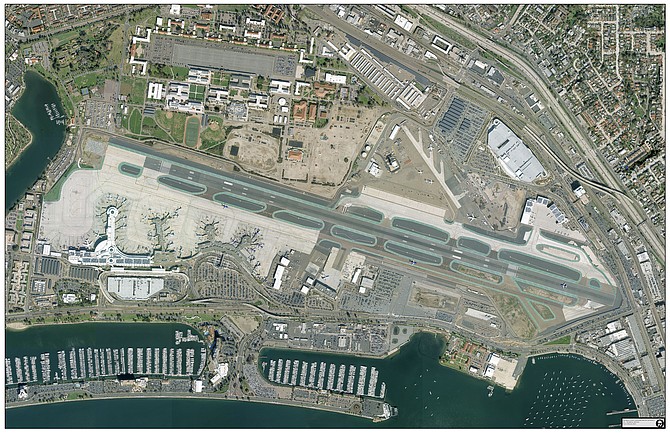 San Diego International Airport has become the first airport in the United States to install a battery energy storage system. According to a news release, the 2 MW/4 MWH ENGIE GridSynergy storage system will "reduce energy charges during peak demand which equate to approximately 40 percent of the airport's monthly electricity costs." The system is expected to begin operation early next year.
The addition of the system is just one of many initiatives that SAN has implemented as part of its sustainability efforts the last few years. In 2013, the Terminal 2 West expansion was the first LEED (Leadership in Energy and Environmental Design) Platinum certified airport terminal in the world and included the airport's first solar array, according to the release. In 2016 and 2017, the airport installed more arrays, totaling 5.5 MW of solar generation. Other eco-friendly steps the airport has taken throughout the years include LED lighting retrofits and HVAC efficiency improvements.
"We are continuously exploring ways to operate more efficiently and reduce the airport's carbon footprint as energy cost and demand rise," said Kimberly Becker, president and CEO of San Diego County Regional Airport Authority who is responsible for the management of SAN. "This system becomes an important tool in that effort by helping to harness our onsite renewable energy opportunities and maximize their benefits well into the future."
The way the GridSynergy cloud-based software works is "by drawing past and present energy generation and usage data at the airport to calculate optimal charge and discharge cycles for the lithium-ion batteries," according to SAN.
In addition to the upgrade, SAN is one of two San Diego County airports to recently receive a federal grant, according to the Federal Aviation Administration. SAN received close to $13 million, of which $3.9 million will be used to repair taxiways. The other $9 million is listed as discretionary.
Oceanside's Bob Maxwell Memorial Airfield received $1.6 million for runway and taxiway improvements.
The state is now requiring its largest airports, including SAN, switch to zero-emission vehicles by 2035. This will include shuttles and buses, according to a report, which also states the policy is the first of its kind in the nation.
SAN served 24 million passengers in 2018, according to the press release, and offers nonstop services to 70 destinations in the U.S., as well as Europe, Asia, Mexico and Canada.