FUNDS TO ADVANCE LUNG CANCER DRUG AND OTHER PROGRAMS
Mirati Therapeutics Raises $234.3M in Public Stock Offering
Sunday, July 7, 2019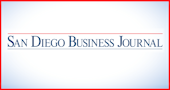 Mirati Therapeutics Inc. has fresh funding to push its pipeline forward.
It raised $234.3 million in a public stock offering that closed June 27. The offering included 2.4 million shares of its common stock at $97 per share.
Funds are earmarked to advance sitravatinib, a lung cancer drug that's in late-stage clinical trials, and another clinical program, MRTX849. Money is slated for preclinical efforts as well.
San Diego-based Mirati does what's called precision oncology — through genetic tests finding patients most likely to respond to its drug candidates.

Sitravatinib is targeting non-small cell lung cancer, the most common type of lung cancer. It can cause bronchitis or pneumonia, and if spreads to other parts of the body, symptoms like bone pain. Or worse can happen.
A Growing Therapeutic Market
It's estimated lung cancer will kill 142,670 people in the U.S. this year, the leading cause of cancer death, according to the American Cancer Society.
"As the incidence of (global) lung cancer rises, the therapeutic market correspondingly increases," said Hung V. Tran, a stock analyst with Biosci Capital Partners, in a June 7 post on financial publication Seeking Alpha.
Sitravatinib will soon undergo phase 3 testing in combination with Bristol-Myers Squibb Co.'s drug nivolumab. By combining them, the idea is to hit multiple targets.
Mirati is sponsoring and funding the clinical trial, while Bristol-Myers Squibb is providing nivolumab at no cost.
Last October, Mirati's stock sunk after phase 2 sitravatinib results, but follow-up clinical trial data in late November hit a key patient benchmark, boosting analysts' confidence in the stock.
Since then, Mirati's stock has shot up. Mirati was trading at $44.65 at year's beginning, closing at $105.38 on July 1.
Tran believes the stock will reach $150 a share in one to three years, with much riding on the phase 3 trial.
"If the combination drugs fail to achieve robust results, it's quite likely that the shares will tumble over 50%, and vice versa," he said.
Mirati is also developing MRTX849, which is in Phase 1/2 testing for advanced solid tumors.
The $234.3 million doesn't included deductions for underwriting discounts, commissions and offering expenses that Mirati must pay.
Cowen, Credit Suisse and Barclays were joint book-running managers in the offering. Guggenheim Securities and Oppenheimer were co-lead managers, with H.C. Wainwright & Co. as co-manager.