SAN MARCOS-BASED AMERICAN AGAVE EXPECTS TO BE IN STORE IN 2020
Iron Fist Brewing's Lager Shines at Walmart's Open Call
Sunday, July 7, 2019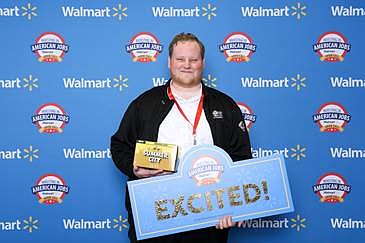 San Diego-based Iron Fist Brewing Co. has got the magic touch, as well as the right product, according to Walmart.
During its recent 6th annual Open Call event, Walmart elected Iron Fist, headquartered in Vista and with 21 employees, to sell its American-style Summer City Lager beer in Walmart stores. This gives Iron Fist, founded in 2010, the green light to get its product ready for purchase orders in hope of selling in regional Walmart stores as soon as within a few weeks.
"We submitted our core range, which included four different products. Of those, they had interest in one in particular, which is our summer lager," said Brandon Sieminski, brewmaster at Iron Fist, adding that the company applied for Open Call online about six months ago.
"Out of over 10,000 some odd applications, they (Walmart) invited around 1,000 companies, including us, to come to the Open Call event in Bentonville (Arkansas) a few weeks back. The last part of the process is taking the product in front of a buyer, because, the company wants to make sure the quality of the product is good but also that, as an organization, the company is ready to start doing business with such a large machine."
Sieminski added that, while Walmart has approved the product, it doesn't automatically mean the store will begin carrying the product immediately. In fact, Sieminski said some companies take up to 12 months to ramp up production, get purchase orders and start sending product to Walmart. It all depends on how market ready the product and the company are, said Sieminski.
On the backend, Walmart provides mentoring and support, specifically on sales. The company is responsible for pitching Walmart buyers and for production.
Kelsey Long, president of American Agave Spirits Co., located in San Marcos and founded in 2016, also attended the Open Call and was placed on a sort of pending list.
"They had one main recommendation which was to add a neck card to our bottles," said Long about her stateside-produced tequila product. "We have a normal label on it, but the Walmart buyer wanted a tag that hangs around the neck of the bottle to add interest and explain the product a bit. They said we should make sure to have that ready before the product hits stores."
Once the tag suggestion is met, Long said the Walmart buyer suggested to begin distributing in California, Illinois, Florida, Arizona and New Mexico, since those are considered top tequila drinking states.
Long said she hopes to officially launch in Walmart stores as early as April 2020.
American Agave Spirits Co. is produced in a distillery in Texas, while all packaging, labeling and bottling takes place in the Poway headquarters.