JLL acquires HFF
Thursday, July 4, 2019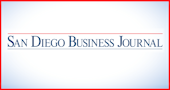 Two commercial real estate firms with offices in San Diego have become one.
JLL (Jones Lang LaSalle, Inc.) based in Chicago has acquired Dallas-based HFF for $1.8 billion.
Both firms have San Diego offices in UTC.
The acquisition was first announced and unanimously approved by each company's board of directors in March and approved by HFF shareholders July 1.
HFF had more than $650 million in revenue in 2018.
The common stock of HFF which had been traded under the ticker symbol HF has ceased trading and was delisted from the New York Stock Exchange.
As a result of the acquisition, some of HFF's subsidiaries will do business as JLL.
"We are delighted to bring together JLL and HFF to create one of the most strategic, connected and creative capital advisors in the world," said Christian Ulbrich, global CEO of JLL.
Real estate reporter Ray Huard may be reached at rhuard@sdbj.com or 858-277-8904.