GOALS ARE TO FIND BEST PRACTICES, BOOST RESILIENCE
Federal and Military Leaders Take Tours Of 6 Tech Companies
Thursday, July 4, 2019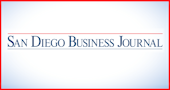 Dignitaries from the U.S. Department of Homeland Security, including the department's chief information officer, visited six San Diego technology companies on June 24 and 25 for a look at how the region is evolving as a technology and cybersecurity hub.
The visits were coordinated by the San Diego Cyber Center of Excellence, the local nonprofit that focuses on the cybersecurity sector, as well as the San Diego Regional Economic Development Corp.
The companies visited were:
Qualcomm Inc., one of San Diego's largest corporations, which developed much of the technology for the new, fifth-generation wireless networks being rolled out this year. Shares of Qualcomm trade on the Nasdaq as QCOM.
Redhorse, which offers IT services to commercial as well as federal government clients, including military and intelligence agencies. Redhorse is recognized as a service-disabled veteran-owned small business, and a minority owned business under the U.S. Small Business Administration's 8(a) program.
Shield AI, which offers an AI framework that learns from its experiences, in addition to an AI powered quadcopter that can gather information outdoors or indoors.
Teradata Corp., which bills itself as leading hybrid cloud analytics software provider focusing on delivering pervasive data intelligence to its customer. It recently shifted its headquarters from Ohio to Rancho Bernardo. Company shares trade on the New York Stock Exchange under the symbol TDC.
Analytics Ventures, which highlighted portfolio companies Dynam.AI and Kazuhm. Dynam.AI offers AI solutions — including those for detection, prediction, and optimization — for any organization in any industry. Kazuhm offers distributed computing technology, saying that it revolutionizes how companies process workloads.
Walmart Labs, the IT arm of the big retailer, based in Carlsbad.
The group making the visits included more than 30 senior military and government officials. They viewed demonstrations of artificial intelligence, machine learning, 5G, data analytics and cybersecurity.
"The [DHS] Science and Technology Directorate seeks opportunities to make connections, share ideas, and discuss best practices and new capabilities with cybersecurity professionals from across government, industry, academia and the international community," said William N. Bryan, a DHS senior official performing the duties of the Under Secretary for Science and Technology, in a prepared statement. "Through this series of tours, we hope to learn from companies that are advancing their capabilities in cybersecurity to better inform our efforts to build a secure and resilient cyber backbone for the nation and address the complex threats of our future."