MEDICINE: COS. ADD VALUE, STILL EXPECT MARKET DEMAND
Medical Staffing Cos. Prepare for Changes
Tuesday, July 2, 2019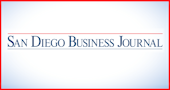 San Diego companies that supply temporary nurses and physicians pushed back on a recent report predicting tougher days ahead for the industry.
AMN Healthcare and Aya Healthcare — the nation's No. 1 and No. 3 largest health staffing firms, respectively — say the aging population and other forces will continue to drive demand. They recruit, screen and hire registered nurses who temporarily work at hospitals, filling seasonal or chronic gaps.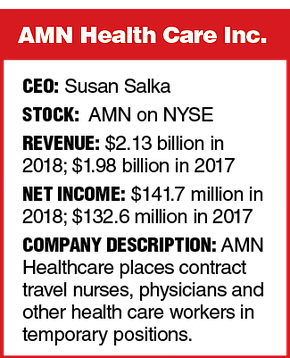 The companies responded to a June analysis from Standard & Poor's Global Ratings, which says hospitals under cost-cutting pressure are reevaluating the role of temporary health care workers. S&P reaffirmed its stable rating on health care staffing, but said the business is tethered to the hospital industry, which S&P assigned a negative outlook.
"While they (hospitals) have turned to outsourcing staffing, their intense focus on cost cutting has put significant pressure on staffing companies to lower prices and increase the value they add by either specializing or expanding their menu of services, or both," state the report.
Predicting Staffing Needs
It goes on to say hospitals have new tools to better predict staffing needs, threatening firms that provide contract nurses and physicians.
AMN doesn't see it that way.
"Despite these innovations, the main drivers of health-care staffing and recruiting solutions remain in effect — including the aging patient population growth, large numbers of clinicians approaching retirement age, and an education system not large enough to build the clinical workforce needed," said Ralph Henderson, president of professional services and staffing at AMN Healthcare, in a statement.
"Because of these factors, health-care staffing solutions including outsourcing, permanent placement and contingent staffing solutions will continue to play a major role in assisting health care systems in meeting patient needs."
Emphasizing that AMN isn't threatened by predictive analytics, Henderson drew attention to the fact that AMN is in the business. Its subsidiary, Avantas, specializes in workforce scheduling.
In May, AMN reported $532.4 million in first quarter revenue, a 2% year-over-year revenue increase. Quarterly net income was $34 million.
Expanding Into Niche Areas
AMN has sought to grow by expanding into niche areas. Recently the company plunked down $200 million for Advanced Medical Personnel, which places contract speech and occupational therapists in schools and other venues.
S&P recently upgraded AMN for diversifying its business, noting the company's core travel nursing segment has slowed. The strategy comes amid what S&P in its report called one-stop shops now competing with niche providers.

"Although providers historically seemed to prefer one-stop-shop staffing companies, a plethora of new staffing companies that offer highly specialized, niche services have emerged," states the report. "We believe the prevalence, growth, and client retention rates of smaller competitors suggest that providers are open to contracting with smaller, more niche competitors that offer a core value proposition."
Cos. Must Evolve With Hospitals
To stay competitive, health staffing companies must evolve with hospitals, per the report. Hospitals have marching orders from insurers to lower costs while delivering on outcomes like fewer readmissions, what's commonly called valued-based care.
"We expect staffing companies that are not investing, developing, and offering services that help hospitals reach their goals will see a decline in their client base," states the report.
"Facing increasing competition and pricing pressure for hospital customers, health care staffing companies can no longer simply increase prices. We believe that to thrive they must add value, such as workflow solutions and consultative services."
Along these lines, Aya Healthcare said it introduced several services so clients will see greater return on investment. Among them: workforce consulting and analytics, as well as training programs. Beyond that, Aya also pointed to chronic shortages of health workers in parts of the country.
'Distribution Gap'
"The distribution gap of talent in this country continues to pose significant challenges for health-care systems in many geographies," said April Hansen, Aya Healthcare's executive vice president of workforce solutions and clinical services.
"This demand creates a strong business case for temporary staffing firms such as Aya Healthcare to mobilize talent and allow health systems to provide appropriate care for their communities even in this transitional economic cycle."
Her comment hits on the S&P report, which states the health care staffing industry is vulnerable to economic cycles.
In boom times, hospitals experience high levels of employee attrition, turning to staffing firms. When the economy sags, full-time health workers move around less and work longer hours.
Slowdown Ahead?
In recent years, San Diego's health staffing firms have been buoyed by a stronger economy, more gaining coverage under the Affordable Care Act and the population getting older.
But S&P isn't alone in foreseeing an industry slowdown ahead.
In April, consulting firm Staffing Industry Analysts forecast U.S. health staffing would reach $153.5 billion in 2019, or 3.6% year-over-year growth. It predicted the industry would expand 2.8% in 2020.
Besides AMN and Aya Healthcare, Host Healthcare, a smaller but growing company, calls San Diego home. Staffing firms have said they set up here because of strong universities attracting top talent.