Immunicom Takes in $11M Series B Round
Tuesday, July 2, 2019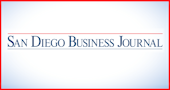 San Diego's Immunicom captured an $11 million Series B round to fund clinical testing of its medical device for cancer.

The company makes blood-filtering technology that's designed to extract proteins in the bloodstream that produce cancer. These proteins prevent the body from fighting back against tumors.
Immunicom said the device aims to supplement existing treatments.
Proceeds will fund a recently launched clinical trial that includes 170 patients with triple-negative breast cancer. Immunicon said it also intends to secure more global partnerships.
"Successfully bringing to market a medical device that not only has strong potential to treat a wide variety of cancer types, but with relatively straightforward design modifications may be reconfigured to treat other major illnesses as well, would be an industry game-changer," said in a news release David Schlotterbeck, chairman of Immunicom, and also the former co-chairman of Cardinal Health.
Several private equity family offices participated in the round, which brings Immunicom's fundraising total to $20 million.