CO. HAS $100M SERIES D, TAKES $70M IN CREDIT, VC TOTAL TO DATE IS $308.2M
Acutus Medical Brings in $170 Million
Tuesday, July 2, 2019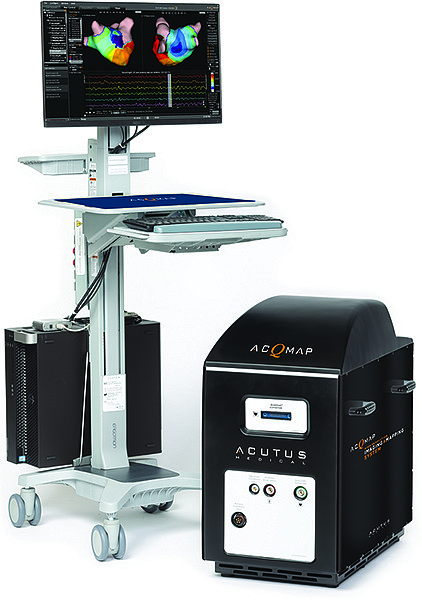 Acutus Medical— maker of 3-D imaging technology for heart procedures —netted $170 million June 20.
The financing, $100 million from a Series D round and $70 million in credit, will quicken commercialization, according to the Carlsbad company.
The company's flagship product, AcQMap, creates a virtual map of the heart chamber. It updates in real time with each heartbeat, aiding in cardiac ablation, a procedure used to treat an irregular heartbeat, or arrhythmia.
The most common type of arrhythmia, called atrial fibrillation, affects an estimated 2.7 million to 6.1 million Americans, according to the Centers for Disease Control and Prevention. It can cause blood clots, stroke, heart failure and other complications.
Atrial fibrillation cases are expected to grow with the aging population, meaning more of a market for Acutus.
AcQMap contrasts with a decades-old method that stiches together electrical impulses to get an imprecise view of the heart. With AcQMap, doctors can see the effects of their work instantaneously.
The technology aids a procedure that involves threading a thin tube into the heart chamber to burn or freeze tiny areas of heart that are firing abnormal electrical impulses, relieving symptoms.
"Advanced imaging, individualized therapy and increased procedural efficiency are needed components to progress the electrophysiology field. We are dedicated to improving every aspect of cardiac ablation," said Vince Burgess, CEO of Acutus, in a news release.
In 2017, AcQMap won U.S. Food and Drug Administration approval, preceded by the regulatory green light in the European Union.
The prior year, Acutus hauled in a $75 million Series C round. To date, the company has raised $308.2 million in venture capital, according to Crunchbase.
This latest round included new investors 8VC, Opaleye Management, and Pura Vida Investments, among others. Also participating were existing investors OrbiMed, Deerfield Management Co., Advent Venture Partners, Xeraya Capital and GE Ventures.
OrbiMedCredit, Royalties Fund and Deerfield Management provided the $70 million loan.