BIOTECH: IT SOURCES PROMISING COS., TALENT; 13TH LOCATION PLANNED
JLABS' S.D. Incubator Is Model of Innovation
Monday, July 1, 2019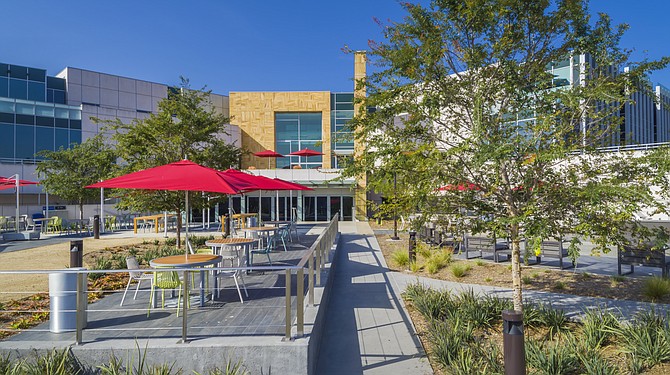 Wellspring Biosciences, a San Diego startup developing targeted cancer drugs, got its start in local biotech incubator, Johnson & Johnson Innovation - JLABS. Founded in 2012, the company hadn't raised any funding from venture capitalists, but it still managed to strike a partnership a year later with J&J's neighboring research and development arm, Janssen Biotech. "We initially put in $2 million. That was enough for us to get to the point where we could do a strategic partnership with J & J," Wellspring CEO Troy Wilson said. "I think (JLABS) has made a difference, not just for us. We certainly need all of the help we can get if we're going to bring new medicines to patients." The partnership was an early proof point of JLABS' success, which is now set to expand to 13 locations worldwide.

Hands-Off Approach
The incubator lets early-stage startups rent out lab space for two years on average, and receive mentorship from the company's experts. The approach is surprisingly hands-off: Startups don't have to give up an equity stake, intellectual property or right of first refusal.
The program also plays an important role for Johnson & Johnson's business: It helps the 133-year-old company source promising companies and talent. In total, JLABS has struck 130 strategic partnerships with its alumni worldwide.
For Wellspring, its work with JLABS led to a strategic drug discovery and development partnership with Janssen Biotech, J&J's research and development arm that has offices in San Diego.
Since then, dozens of other biotech startups in San Diego have used JLABS as a launching pad for their companies. For example, Poseida Therapeutics, a company that recently closed on $142 million in funding to develop cancer immunotherapy treatments, began developing its treatments in JLABS in 2015. DNA sequencing company Omniome, which raised $60 million last year, is also a graduate of the program.
Growing
Along with its alumni, JLABS itself has grown. Since the first incubator opened in San Diego, it has since expanded to host 60 portfolio companies. J&J has also replicated the program around the world, with a site that recently opened in Shanghai, and plans to open JLABS' 13th location in Washington, D.C., next year.
"We have a global team now," said Kara Bortone, senior director of portfolio sourcing and management for JLABS. "We opened in Europe last year. We're now excited to have (incubators in) Asia as well."
Out of the Recession
Bortone, who has headed up JLABS San Diego since the program first began in 2012, said the program came in at a critical time for biotech companies, when venture capital funding was still down after the Great Recession.

"We really thought of it as an experiment. We didn't know it would work," Bortone said. "Not only did we see it as a way to source external innovation for J&J, but in 2012, the local biotech community was at a critical moment. That was a tough time for funding. It was a way we could help companies in the local ecosystem as well."
A 40,000-square-foot space for the program was carved out of Janssen's offices that year, under site head Diego Miralles' direction. Startups not only had access to traditional office space, but lab space and equipment—something that can be hard to come by when a company is just beginning to raise seed funding.
Bortone said JLABS is well-positioned to support companies that have recently raised grant funding for a project, such as through the Small Business Innovation Resource program, but want to maximize the amount of funding going toward their research. As they develop, companies are also paired with a mentor to help them bring their ideas to commercialization.
At the flagship site in San Diego, startups have access to researchers through neighboring Janssen. The incubator also has clusters of genomics startups, some of which are Illumina spinoffs, and companies working on projects involving the microbiome, thanks to UC San Diego's nearby Center for Microbiome Innovation.
Bortone said she noticed another distinction: the amount of collaboration between local startups. At one point, Arcturus Therapeutics and Avidity Biosciences were both in the incubator at the same time, where they were both developing RNA medicines.
"I said, 'You're in the same area, so you might want to watch out for each other, because you could have potentially competing technologies," Bortone recalled. "The next thing you know, a month later, they had gone in together to purchase a piece of equipment they both could use."
A Broader View
As JLABS continued to grow, Bortone was promoted her new role, which gives her more of a global view of the program. She said she will focus on helping build relationships with JLABS companies and sourcing startups that are working on unmet medical needs and other interesting technologies.
"My role going forward will focus on forging relationships with these companies," she said. "One of the most exciting parts of my job is trying to see how we can create new value out of combining J&J assets with a potential platform approach that a company has."
In her place, Sanjay Mistry will be relocating to San Diego to serve as the new head of JLABS in San Diego.He has held a number of roles for J&J, most recently serving as Janssen's'senior director of finance operations, where he built out the company's research and development portfolio. He also has experience in the venture capital world, working with Philadelphia-based health care investment firm Quaker Partners for nearly five years. But it was in San Diego that Mistry's entrepreneurial career began, when he joined a startup called MorphoGen Pharmaceuticals, that, at the time, shared a basketball court with Illumina.
Sixteen years later, Mistry is returning to a much larger biotechnology ecosystem—in part, thanks to the neighbors with whom he once shot hoops. One of his first priorities here is to build on the relationships seeded by his predecessors at JLABS.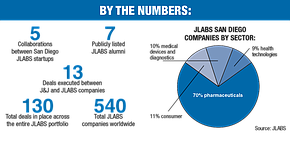 'Disruptive, Early Innovation'
"The beauty of the JLABS model is that you're bringing in very disruptive early innovation that is perhaps a few years out. But as it matures, it could become an area of strategic opportunity moving forward," he said. "We're creating winners and champions, but we've got to keep that relationship strong so we can have equal opportunity to work together in the future."
For some companies, that could mean striking up research and development partnerships, as Janssen has done with Arcturus and a number of its other local graduates. In other cases, it could mean taking an equity stake, or reaching a licensing deal.
"Strategically, JLABS is well positioned to keep expanding our shots on goal for innovation opportunities," he said. "The teams have been nurtured here, helped on their way, and then they blossom. … As anyone would look at this ecosystem, I hope they would say, 'wow.'"
Correction: The number of deals JLABS has struck with its portfolio companies was misstated. JLABS has 130 deals with its companies worldwide.