Co. to Bet $100M on Corporate Shift to Flexible Office Space
Wednesday, January 30, 2019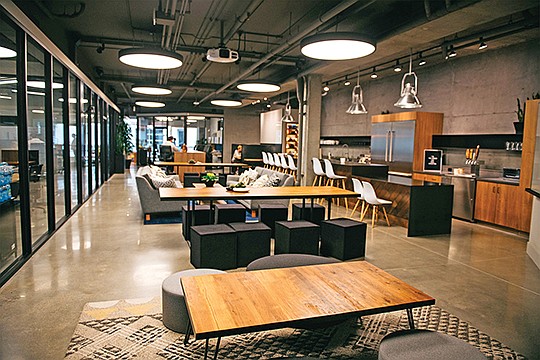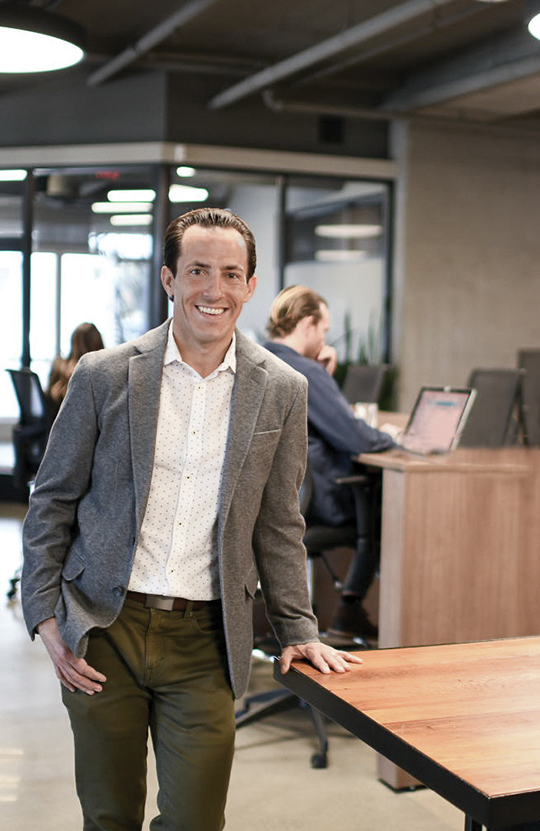 San Diego's coworking market shows no sign of slowing, as established names and new faces alike continue to open more shared office space throughout the metro. But one Carlsbad company is chasing after an even broader target: big enterprises.
Since CommonGrounds Workplace first opened in 2017, the company has chased a breakneck growth rate, scouting for new office locations and big-name customers to fill its stylish office spaces. It markets itself as an enterprise-grade, "workplace-as-a-service" company, rather than a hub for scrappy startups.
Backed by San Diego real estate investment firm Pacifica Enterprises Inc., CommonGrounds currently has four locations: its Carlsbad flagship, and offices in San Jose, Los Angeles and Denver, Colorado.
The company recently closed a $100 million investment round, led by Pacifica Enterprises. Other backers included educational software company the Davidson Group and Mohamed Alabbar, founder of Dubai-based real estate development company Emaar, the developers behind the iconic Burj Khalifa skyscraper.
With the additional funding, CommonGrounds plans to vastly increase its office-leasing footprint to 50 locations. Its Carlsbad offices have also expanded from 10,000 square feet to about 30,000 square feet that the company manages and operates, CEO Jacob Bates said.
CommonGrounds' Carlsbad offices back up to Pacifica Enterprises' BluWater Crossing luxury lofts. Like most coworking spaces, it offers a mixture of communal spaces, owned desks and private offices. But it also has a few unique touches — CommonGrounds operates its own café at each location, called Invita. Its office spaces have hardwood tables, plush chairs and warm lighting.

"Everything is thought through for what the enterprise-grade user is going to want," Bates said. "We try to sit down and understand how are you going to use this space? How are you going to attract and retain talent?"
In its first two years, CommonGrounds has already attracted some big-name users. Its offices in Denver are rented out to Slack, the workplace messaging company valued at $7.1 billion, and it has space in Carlsbad and San Jose rented out to e-cigarette startup Juul, valued at $38 billion.
Bates said CommonGrounds focuses more on corporate users because he expects large companies to turn more toward flexible office space in the next five years. As more people work remotely, Bates said he expected companies to shift from using 90 percent traditional office space to about 70 percent.
"I've been studying the future of work for the last seven to eight years," he said. "This is going to be the future of office and the future of work."
Bates, who has headed up global real estate for Nike, Cigna and Unity Technologies, said corporations are looking for flexibility as their workforces grow and shrink. At Cigna, for example, he saw a lag in office space usage as the company's staff grew and fluctuated. At Unity, he helped design office spaces for project teams, but as those teams changed in size, the space remained the same.
A new standard that requires companies to put their leases on their balance sheet might also drive some interest. Most of all, Bates said, companies are looking for a leg-up in the war for talent, and office amenities can serve as a solution.
While a coworking space might be a bit smaller than a corporate office, Bates said companies still see it as an attractive option "if they can come in and feel like they're having an experience."
Bates said CommonGrounds' growth plans include more spots in San Diego. The company planned to open a new location downtown in 2019, though Bates said he was still working on that location, and he hinted at another in the metro later on.