Local Solar Integrated Roofing Corp. to Acquire South Orange Roofing Company
Tuesday, January 29, 2019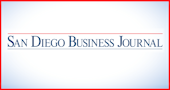 Solar Integrated Roofing Corp., headquartered in Poway, has signed a letter of intent to acquire a South Orange County roofing company with $3 million in revenue.
In a news release, Solar's CEO David Massey said the company has two other acquisitions on track to close in January.
"We are continuing to expand our Southern California footprint," Massey said in a statement. "This company has been in business for over 18 years and is a perfect fit for our model. They have an excellent reputation as much of their business comes from referrals. They do residential roofing as well as some commercial buildings and apartment complexes. Their client list is positioned well to add solar, too."
Solar Integrated Roofing Corp. has hired a new chief financial officer and the company's audits will be completed soon, Massey added.
Travel & Hospitality reporter Mariel Concepcion can be reached at mconcepcion@sdbj.com or 858-634-4625.