Collins Aerospace Gives 2 Months' Notice to 66 Workers
Tuesday, January 29, 2019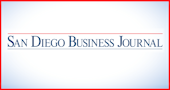 Collins Aerospace notified the San Diego Workforce Partnership that it will lay off 66 employees at its Chula Vista plant on March 29. Notification came in a letter dated Jan. 28.
The facility is not closing, according to the subsidiary of United Technologies.
"As part of this reduction, manufacturing operations at Chula Vista will substantially cease, and additional employment separations will occur," said the letter.
The aerospace plant on Lagoon Drive, formerly known as Rohr Aircraft and more recently as Goodrich Aerostructures, specializes in nacelles, the aerodynamic housing that covers jet engines.
United Technologies stock trades on the New York Stock Exchange as UTX.