Cosmetology Schools Help Meet The Demand for Next-Gen Stylists
Monday, January 28, 2019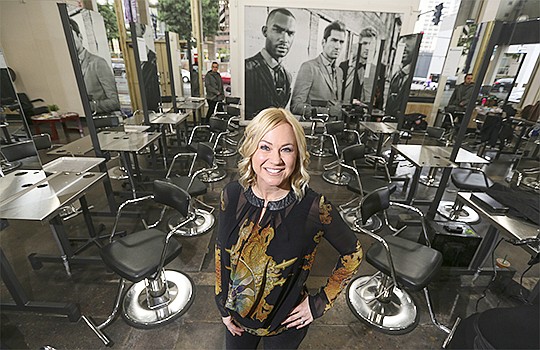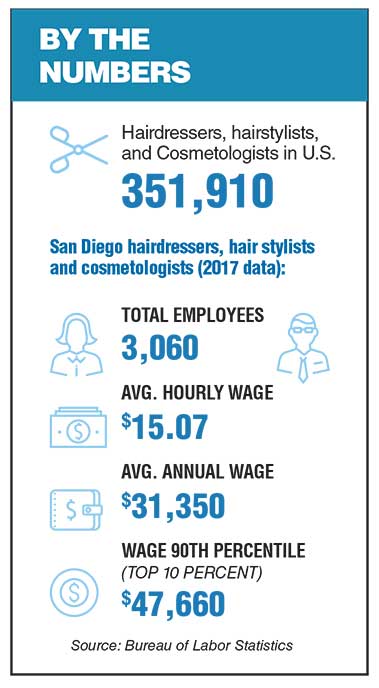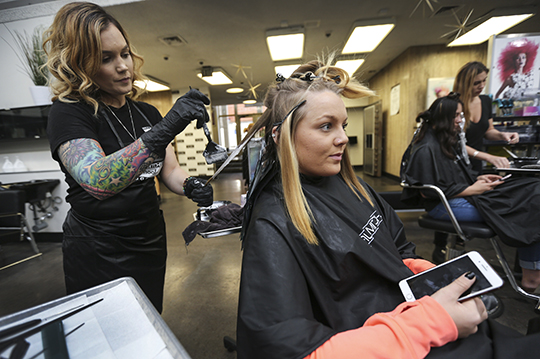 After working for 30 years as a bookkeeper for her family's sheet metal paint shop, Rosemarie Royce decided to go back to school and learn a trade she had loved since she was a small child — she enrolled in cosmetology school.
"It is my bucket list career — I should have done it when I was 18 but life gets in the way," said Royce, who is set to graduate from the cosmetology school at San Diego City College in May, and then take the state licensing exam in early June. "I am ready to rock 'n' roll."
Once she graduates, said Royce, she will continue to work at her day job, but see clients on weekends in her home beauty salon — in the garage of her family's Lakeside home — which they built for one of their three grown daughters, who also attended beauty school.
Royce is among the tens of thousands of students who graduate each year from beauty and barber schools across the nation, an industry that generated some $2.5 billion in total revenue in 2018, according to IBISWorld, a business and market research firm. Those schools feed an appetite for cosmetology professionals to work in hair and nail salons that brought in $59.5 billion in 2018, also according to IBISWorld.

The sector in San Diego employed 3,060 paying an average annual wage of $31.350 according to the U.S. Bureau of Labor Statistics in a 2017 survey. 
About seven or eight private beauty schools operate in San Diego County, as well as the public program at San Diego City College, said Sudie Phillips, department chair for the City College cosmetology program. The local demand for cosmetology graduates is strong, according to those in the business of training professionals in the beauty and barber industry.
Beauty schools are meeting this demand by adapting technological tools and also preparing their student for all aspects of the job, from brows to business.
"There are salons popping up everywhere in San Diego, eager to hire new stylists," said Katie Graves, co-director of Paul Mitchell the School, a cosmetology school located in downtown San Diego. "This industry is recession-proof."
Paul Mitchell has about 120 cosmetology schools across the country, most of which are franchised. The company also has a popular line of hair care and beauty products, Paul Mitchell schools come under the corporate umbrella of John Paul Mitchell Systems Inc., which includes hair care products and salons, and the company's headquarters is in Century City.
Passing the Test
Under California law, cosmetologists — or hair stylists — must complete 1,600 hours of training, which includes a mix of classroom study and practical experience, on subjects including haircutting, perms and hair coloring, as well as care of skin and nails. Most cosmetology schools, including Paul Mitchell and City College, operate salons where customers receive a discount in exchange for allowing students to hone their skills. After graduation, the students must pass a written and practical state exam to earn their cosmetology licenses.
"Most of them will go on to have a career behind the chair as a hair stylist," Graves said.
New grads can consider many options for jobs, from large national chains, such as Great Clips, to independent salons, and department stores such as JCPenney that have their own salons, said Michael Halmon, president of the board of the American Association of Cosmetology Schools, who runs two beauty schools in Florida. Other options include working for lines of makeup and beauty products, the cruise ship industry, and such entertainment icons as Disneyland and Hollywood.
"There's no shortage of opportunities in the beauty sector," said Halmon. "We hear from the chains, they have openings and they can't get them filled fast enough
At his schools, said Halmon, the students are predominantly female, and the median age is about 25. ."He estimated that 85 percent of his students are younger and training for their first career, while about 15 percent are older and going back to school to try a new profession.
Paul Mitchell students can opt for the cosmetology program by itself, which takes about 10 months to complete on a full-time basis, or add an advanced makeup course that takes about seven weeks, Graves said. Students also have the option of studying part-time in the evening, which takes about six months longer to accrue the necessary hours for graduation.
Tuition Costs
Tuition at Paul Mitchell runs at $22,240 for the cosmetology program, including the hair stylist's kit, which includes such items as shears, brushes, a blow dryer, makeup kit and iPad, which is loaded with textbooks and instructional apps for cutting, hair coloring and other tasks. Currently, Paul Mitchell has about 200 students, and about 80 percent of students receive grants, student loans or other financial aid, Graves said.
City College offers a similar menu of full- and part-time options for cosmetology students, and is the only public school cosmetology program in San Diego County, said Phillips, the department chair for the college's cosmetology program. Tuition and fees, including a starter kit with cosmetology tools, come in at just under $4,000 combined, and about 80 percent of students also receive fee waivers or other financial aid.

About 200 students per year go through the City College cosmetology program, with additional students going through related programs, such as the esthetician or skin care program, Phillips said. A new session of cosmetology school starts every eight weeks, and if one session fills up, students can wait for the next one, she said. A new class also starts at Paul Mitchell every seven to 12 weeks, depending on whether the student is going full or part time.
Barbering Program
One option available at both schools is a 200-hour barbering program for those who have already earned their cosmetology license, which allows them to have a "dual license" that increases their marketability, school officials said. In the barbering program, students learn to use electric clippers for men's haircutting, as well as shaves and other techniques.
Both schools boast high success rates for students who take the state cosmetology exam, with Paul Mitchell at a 99 percent pass rate, and City College at 100 percent in a recent reporting period.
School officials said the starting wage for a new cosmetology grad is about $25,000 to $30,000, and many salons hire new grads as assistants to veteran stylists, who perform such tasks as blow dries and shampoos, while receiving additional training.
The Pay
According to the Bureau of Labor Statistics, the average salary for a cosmetologist in the San Diego-Carlsbad region in 2017 was $31,350, while those in the top 10 percent earned an average of $47,660.
The school officials said experienced cosmetologists can earn in the six figures if they are ambitious and talented, and they also pointed out that compensation includes tips which don't necessarily show up in official statistics.
"As long as you are putting your effort into it to bring in clients, you can definitely support yourself in San Diego," Graves said.
"If you want to make money in this business, you can," agreed Phillips.
Marc Damiano, who graduated from the Paul Mitchell cosmetology school in December, is already on his way to a lucrative career. A former public relations practitioner, Damiano decided to go back to school in his early 30s after being laid off. He passed his state cosmetology exam soon after graduating, and has landed two jobs — one as a full-time makeup artist at the Nordstrom store in UTC, and the other as a "studio stylist," at a local salon where he worked during school as a receptionist.
"If you're going to go to cosmetology school, be ready to buckle down. It can be stressful and sometimes you want to run outside and scream. At the end of it all, it's 100 percent worth it," Damiano said.
See More: Increasingly, You Can Find Technology and Men at the Salon