Working Out Bugs of New Carrier Systems Is No Pleasure Cruise
Sunday, January 27, 2019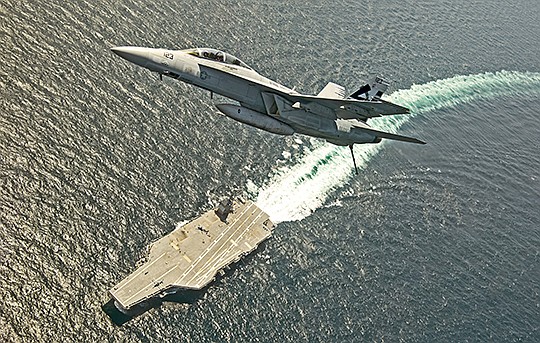 The U.S. Navy is poised to place orders for two aircraft carriers in the Gerald R. Ford class.
The new-style carriers, which have yet to appear in San Diego, include several new technologies — so new, in fact, that they have naturally had their share of developmental challenges.
For a while it was General Atomics' advanced aircraft launch and recovery machinery that was in the spotlight. President Donald Trump has repeatedly asserted that the Navy should go back to steam catapults — old technology that continues to launch the Navy's aircraft off the decks of Nimitz-class carriers.
By now, troubles with Ford's electromagnetic weapons elevators have grabbed the spotlight. (As yet, the Navy has only one advanced weapons elevator on the USS Ford working the way it should. The Navy accepted that first piece of machinery Dec. 21. The carrier has 11 high-capacity elevators in all, which use linear motors rather than cables.)
Linear motors are the technology behind the new aircraft launch catapult, called EMALS (or Electromagnetic Aircraft Launch System). Its companion system — the one that snags aircraft as they land — is called AAG (for Advanced Arresting Gear).
San Diego-based General Atomics reported in October that it was producing EMALS and Advanced Arresting Gear systems for the second and third ships in the Gerald Ford class.
No contract has yet been awarded for Ship No. 4., which would be part of the two-ship "block buy" that Congress is considering.
General Atomics declined a chance to offer updates on the EMALS and AAG systems, referring questions to the Navy office that buys them. Calls placed to the program office's public affairs line were not returned.
In remarks from early January, Navy Secretary Richard Spencer sounded as if he was sold on the EMALS catapult technology. Speaking at the Center for a New American Security on Jan. 8, Spencer recalled an early December conversation with President Trump.
"We got the bugs out," Spencer recalled telling the president during the Army-Navy football game Dec. 8.
By Spencer's account, Trump asked why the Navy shouldn't go back to steam.
"… [W]hat you really have to understand is the aperture of EMALS," Spencer recalled saying. "We can launch a very light piece of aviation gear and right behind it we can launch the heaviest piece of gear we have. Steam can't do that.
"And by the way, parts, manpower, space — it's all to our advantage."
The Navy distributed a transcript of Spencer's talk.
On the topic of the weapons elevators, Spencer recounted that he told Trump he could fire him if he doesn't get the elevators working.
"We're going to get it done. I know I'm going to get it done. I haven't been fired yet by anyone. Being fired by the president isn't really top on my list," he said.
In advertising, shipbuilder Huntington Ingalls Industries (NYSE: HII) claims a block buy of two Ford-class carriers will save American taxpayers more than $2 billion over the carriers being bought separately.
General Atomics is now seeking foreign military sales of its EMALS system, particularly to India.
For the first three carriers at least, it looks as if the Navy is proceeding as planned with its General Atomics equipment.
As if to reinforce that point, the Navy announced Jan. 23 that it awarded GA a $19.7 million order for EMALS spare parts for the USS Gerald Ford. The parts are to be delivered by early 2023.
General Atomics is privately held and does not disclose revenue.