PROPERTY: RETAIL SECTOR SEEN AS STABLE IN S.D. FOR 2019
Sears' Exits Open Door For New Opportunities
Sunday, January 27, 2019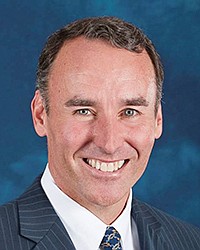 A former Sears store at El Cajon's Parkway Plaza is being redeveloped with a variety of retailers taking portions of the space and plans are in the works for a similar redevelopment of a former Sears store in the Chula Vista Center mall.
Combined with other projects either planned or underway, they are evidence of what brokers said is a healthy commercial real estate market for retail property in San Diego County heading into 2019.
"2018 was a really steady year in San Diego County for core retail assets," said Craig Killman, an executive vice president of JLL who is the leasing agent on the Parkway Plaza and Chula Vista projects. "2019 feels like it's going to be a stable year, but nothing crazy."
Tenants lined up for the former Sears store at Parkway Plaza include Bob's Discount Furniture, Ashley Home Store and Burlington Coat Factory, Killman said.
Plans also call for the former Sears garden center at Parkway Plaza to be used for restaurants, Killman said.
The renovation work is slated to begin this year and finish in 2020.
Opened in 1972 and formerly known as Westgate Parkway, Parkway Plaza has long been a shopping hub for East County.
'A Fabulous Location'
Details on what will go into the former Sears store in the Chula Vista Center are still being formulated, Killman said.
"It's a fabulous location," Killman said. "We've just got to figure out what the highest and best use of the property is."
Opened in 1962 at 555 Broadway, Chula Vista Center is in the middle of downtown Chula Vista near San Diego County Court South County Division at 500 Third Ave., and Chula Vista City Hall at 276 Fourth Ave.
Killman said it could include something similar to the former Sears store in Parkway Plaza, or it could be a mixed-use development that would include some apartments.
Overall, the retail market in San Diego County softened in the fourth quarter of 2018, according to CBRE, but the outlook for 2019 is positive with new retailers at both the high- and low-end of the market set to open and a flurry of new construction in Del Mar.
The Numbers
Leasing activity was down 22.6 percent from the third quarter, but the amount of available retail space remained tight at 6.6 percent with overall vacancy continuing the steep downward trend that it's been on since 2013, CBRE reported.
Net absorption, which measures the amount of space taken by companies moving in versus the amount of space left by those moving out, was 112,170 square feet for the fourth quarter.
Leasing activity was down, but the rents landlords were seeking remained at an all-time high of $2.44 per square foot.
Asking rates downtown were up for the quarter to $2.91 per square foot, CBRE reported. North County leasing rates also rose, reaching $2.71 per square foot.
No new projects broke ground or opened in the fourth quarter, but Millennia Town Center in Chula Vista is expected to open in the first quarter of 2019 with Home Goods and Cost Plus among the tenants.
Retail shops in One Paseo in Carmel Valley also are set to open in the first quarter, and Del Mar Highlands Town Center is undergoing a $120 million renovation that will include 120,000 square-feet of new retailers, according to CBRE.
Interest in Centers
Michael Peterson, a senior associate at CBRE, said there's been a surge of boutique fitness centers opening in the county, new grocery stores such as Aldi opening stores, a growing interest in medical-related business moving into retail shopping centers, and a continuing move by restaurants to take up space in retail centers.
"People are still going out, dining. That's internet proof," Peterson said. "You're seeing emergency care centers pop up in grocery-anchored shopping centers."
Most of the new apartment and condominium towers being built downtown have retail components on the ground floor.
"That's where you're seeing a resurgence of restaurants. You're seeing the entertainment side of eating really happening downtown," Peterson said.
Caution Flag Was Out
On a cautionary note, Chad Iafrate, a senior director of Cushman & Wakefield, said the volatility in the stock market and political uncertainty created "a little bit of a headwind" in the retail market at the end of 2018.
"Some of these retailers and restaurant food users really took a pause to reevaluate their growth plans," Iafrate said. "Generally speaking, I think the growth is going to continue. It's just going to be growth at a decreasing rate going into 2020."
Looking at the overall San Diego County economy, Cushman & Wakefield said economic indicators also were strong.
The unemployment rate was down to 3.2 percent in November 2018 — the latest figures in the Cushman & Wakefield report — compared with 3.3 percent in October and 3.5 percent in November 2017.
Between November 2017 and November 2018, the county added 26,400 jobs.
Cushman & Wakefield predicted that all employment sectors would grow at a combined rate of 1.3 percent in 2019 with slower growth expected in 2020.