San Francisco Conference Draws Complaints; Some Call for Move
Sunday, January 27, 2019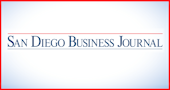 Upward of $21 for a cup of coffee. Hotels as much as $2,000 a night. And $300 for a three-hour slot at a hotel lobby table.
Disenchantment is growing over sky-high costs at the J.P.Morgan Healthcare Conference in San Francisco, where investors and executives gather annually in early January to network and unveil company news.
Media outlets in recent weeks chronicled the qualms, with some on Twitter and in article comment sections calling for San Diego to be the new home.
Aside from mind-boggling prices, critics say the event has outgrown the Union Square area of San Francisco. A hashtag — #movejpm — even gained steam.
"My vote is in — Sun, Sand and Science in San Diego!" Stanley Crooke, CEO of Carlsbad's Ionis Pharmaceuticals, said on Twitter, using the hashtag.
Heather Graehl on Twitter cited San Diego's affordable hotels (comparatively, at least), ranking as a top city for conventions and sunny January weather. She's the director of business development at San Diego-based KCAS Bioanalytical & Biomarker Services.
Those outside of San Diego vouched for the region on social media, too.

But a move likely won't happen, given J.P.Morgan Chase's long-term contract with the Westin St. Francis hotel in San Francisco, wrote Ron Leuty, a reporter with the San Francisco Business Times.
On his blog, venture capitalist Bruce Booth said if the event won't relocate, perhaps bankers should set up a competing conference in a better equipped area. He suggested Miami, San Diego, Atlanta or Las Vegas.
Booth leveled a number of gripes: event excess out of touch with public concern over drug price hikes, not enough emphasis on patients, limited meeting productivity and company travel costs.
"Dropping $50-100K to send half-a-dozen people to JPM is commonplace today, sadly. In a bit of irony, it's good to know that underneath its very liberal veneer, San Fran is as capitalist as Adam Smith would hope," said Booth.
A Massachusetts-based partner with Atlas Venture, he said the conference is no longer worth it. Or, in his words, "the game isn't worth the candle."
Booth conceded, however, that companies fundraising may benefit from the density of investors. Along those lines, biotech publication Endpoints News published an anonymous opinion piece from a biotech CEO defending the conference.
"The quality and quantity of influential investors at JPMorgan allows large pharma, and fledgling public biotechs, to reach a wide audience in person on a single trip. This is why the event exists and is highly respected," stated the piece, adding the event " ignites industry momentum each year."