New Study Shows Small Businesses Have Big Footprint in S.D.
Sunday, January 27, 2019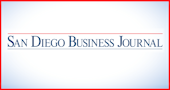 Small businesses in San Diego account for the majority of the area's employment and a significant portion of its future growth, according to a new study.
Small businesses, defined as companies with fewer than 100 employees, account for about 59 percent of the San Diego workforce, for a total of 697,000 people.
About 69 percent of local small businesses reported financial growth in the past two years. In the future, another 81 percent of companies expect to grow in terms of financial performance, and 41 percent expect to hire.
More than 500 local businesses were surveyed for the study, released Jan. 22. by the San Diego Regional EDC and the San Diego and Imperial Small Business Development Center.
According to the survey, most small businesses (about 64 percent) employ fewer than five people. But those firms, especially long-established companies, make a significant contribution to the economy.
While nascent companies, less than two years old, generated less than $100,000 in annual revenue on average, companies that had been around for more than 10 years brought in more than $1 million in annual revenue.
About 36 percent of small businesses are owned by women, 20 percent are owned by minorities and 10 percent are owned by veterans in the San Diego area.
The report also shed some light on the needs of small businesses. The vast majority of companies, 85 percent, said "sales and new business" was their most significant challenge. Another 14 percent of companies said "financial stability and cash flow" was a concern. Equally important was hiring and retaining staff, which 13 percent of companies surveyed reported as a difficulty.
"In order to better serve the needs of our small businesses and entrepreneurs, it's important that we understand their perceptions and experiences," Danny Fitzgerald, associate regional director of the San Diego and Imperial SBDC Network, said in a news release. "This study will enable us to create new and enhance existing programming to support small business growth across the region."
Data from the study will be used to support the San Diego EDC's new Inclusive Growth Initiative, which seeks to support small businesses through helping develop local talent, equip small businesses with the resources they need to compete, and provide solutions to address the cost of living.