HEALTH: RAPID RESULTS, SIMPLICITY ARE SELLING POINTS
Molecular Flu Test Ready to Compete
Sunday, January 27, 2019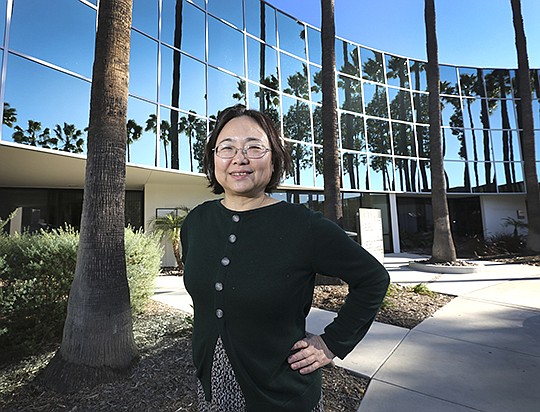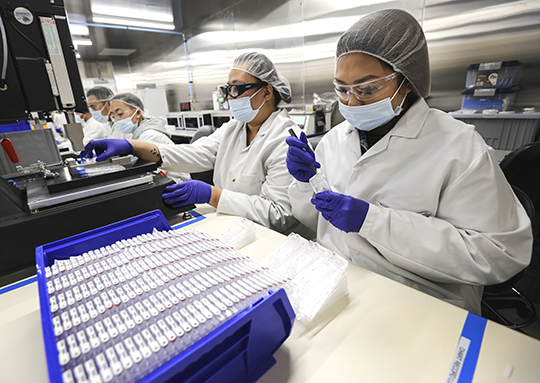 MESA BIOTECH INC.
CEO: Hong Cai
Funds raised: $3 million Series A round, $20 million Series B round
No. of employees: 50
Headquarters: Sorrento Mesa
Year Founded: 2009
Company Description: Mesa Biotech makes a test for diagnosing the flu, emphasizing accuracy and speed. The company developed a respiratory test as well, with others in the works.
A widespread desire for quicker and more accurate flu diagnostics has buoyed San Diego's Mesa Biotech.
Mesa has 50 employees — double from a year ago — as the company rolls out a platform that determines in 30 minutes if a patient has the flu. Older methods take longer, and they're prone to misdiagnosis, leading to complications in some cases.
For Mesa, last year was one to remember. The privately held company took in $23 million in investment, first through a $3 million Series A round and then a $20 million Series B round. In addition, the U.S. Food and Drug Administration — along with European regulators — approved Mesa's tests to diagnose Flu A/Flu B.
Mesa is competing in a burgeoning market: rapid molecular flu tests. Molecular-based tests amplify select sections of DNA, upping the accuracy compared with traditional antigen tests. Recently, in a conference room at Mesa Biotech's Sorrento Mesa headquarters, CEO and co-founder Hong Cai demonstrated the technology. 
It begins with a nasal swab — less invasive than conventional tests collecting a sample from the back of the nose and throat, the company says. Sample-filled cassettes slot into Mesa's portable docking station, and after a half-hour, a solid line on the screen indicates whether a person has the flu.
Given the ease of use, Mesa earned an FDA waiver enabling non-scientists to run the process. This saves doctor's offices or retail clinics the trouble of sending out samples to labs.
Cai invented part of Mesa's platform, called accula. She said the greatest challenge was cramming complex — and separate — technologies into a small, user-friendly package.
"Technologies may work independently, but when you put them together, your hypothesis may be wrong," she said. "Never underestimate integration."
The flu test is undergoing a pilot program, with the company gearing up for a wider commercial launch. Mesa Biotech recently increased its manufacturing footprint at its headquarters to 25,000-square-feet, 68 percent larger than before.
That will allow the company to produce millions of flu tests annually. Besides Flu A/Flu B, Mesa last year notched regulatory approval for a test in respiratory syncytial virus, which can cause respiratory tract infections.
There's a need: annually, RSV leads to 57,527 hospitalizations annually among kids under age 5 and kills more than 200 children in the U.S. a year. Among adults over 65, RSV leads to 177,000 hospitalizations and 14,000 deaths every year, according to the U.S. Centers for Disease Control and Prevention.
For many, the flu sidelines them for a few days to two weeks. But for others, particularly seniors, it's deadly.
More than 80,000 Americans died of the flu in the winter of 2017-2018, the highest number in over a decade, the CDC estimated this fall.
The severe flu season fueled a demand for more accurate tests.
Rapid antigen tests can have high false negative rates. In these instances, a person with the flu doesn't receive treatment, slowing recovery and increasing the chances of spreading the disease.
Mesa Biotech's test is accurate about 97 percent of the time. Beyond better flu diagnosis, higher accuracy can cut down on antibiotic resistance.
For a patient who mistakenly receives a negative flu diagnosis, a doctor may then turn to antibiotics, which are effective against bacterial infections like strep throat but not the flu. Overprescribing antibiotics contributes to drug-resistant bacteria.
"A molecular-based flu test is a big innovation," said Bruce Carlson, publisher of market research firm Kalorama Information. "Basically, if we were having this conversation in, say, 2014 this really would not be possible yet."
Carlson said Mesa is among a handful of companies with approval for rapid, molecular flu tests, including Salt Lake City-based BioFire Diagnostics. But the market is far from saturation.
"Yes, it's getting to be a crowded field, but there's big opportunity. Lots of doctors' offices don't have these tests yet."
Carlson added Mesa's device appears smaller than others, a differentiating factor. The company could further distinguish itself with more tests on its accula platform.
That's the plan. Mesa is working on women's health and strep throat tests, among others.
Founded in 2009, Mesa Biotech is a spinoff of New Mexico's Los Alamos National Laboratory. Cai was a principal investigator there, as was R. Bruce Cary, co-founder and chief scientific officer.
"After the spinoff, we kept developing the technology," Cai said.
The company's platform is based on polymerase chain reaction, or PCR — a method of analyzing a short sequence of DNA. Kary Mullis, who developed PCR in San Diego, shared the Nobel Prize in Chemistry in 1993 for the discovery.
PCR hasn't been common in primary care. Until now.
"Everybody can run a PCR test in laboratory settings, but easy enough and simple enough to run in a physician's office is another thing," Cai said. "We're making these tests accessible to entry users, because a doctor's office can't afford expensive instruments, a laboratory director and technicians onsite."
In 2013, Mesa moved from New Mexico to San Diego, drawn by engineering, business and clinical talent.
"San Diego is the best hub for diagnostics. In a 10-mile radius most of the large diagnostic companies are here," Cai said.
With the company transitioning to a commercial operation, in a few years Mesa Biotech could join the ranks of bigger players in town.