FTC Trial Could Redefine How Qualcomm Does Business
Sunday, January 27, 2019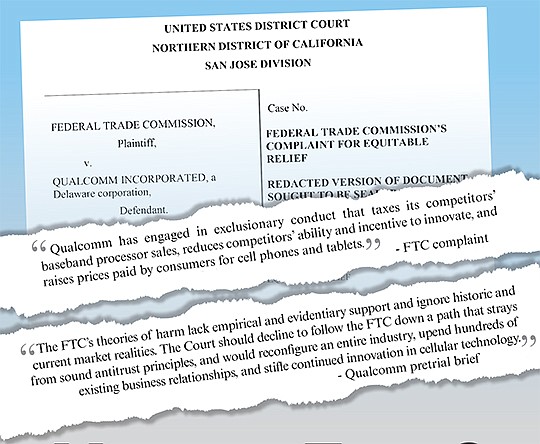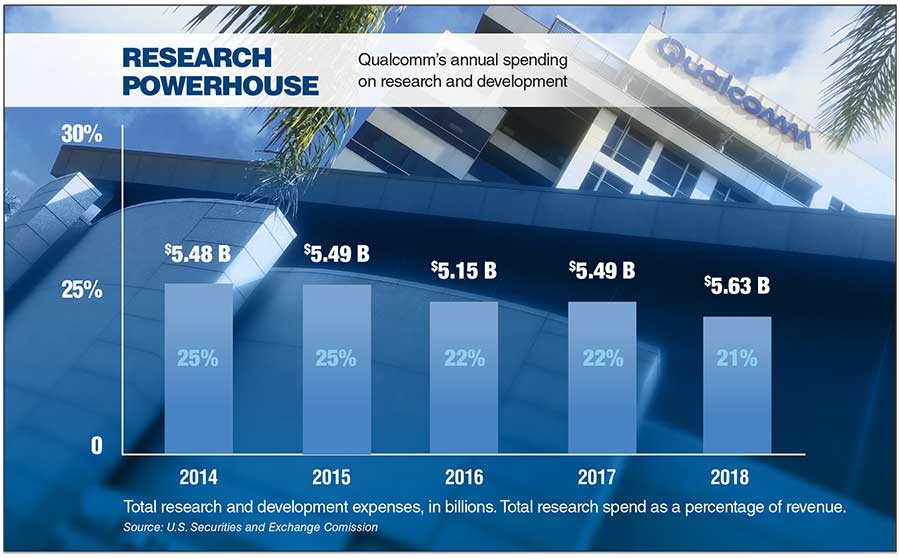 The outcome of the Federal Trade Commission's antitrust trial could ultimately change how Qualcomm Inc. licenses its technology to device-makers. It could also set the tone for how Qualcomm approaches one of its biggest customers, Apple Inc.
Court documents unsealed in the ongoing FTC trial showed how Qualcomm and Apple first struck a deal — and how that relationship began to unravel.
For five years, Apple exclusively used Qualcomm's modems, after the two companies struck a billion-dollar business deal. The agreement, which the FTC pointed to as an example of Qualcomm's anti-competitive tactics, also shed some light on the deal-making process behind two of the world's most prominent technology companies.
Apple hasn't always been a customer of Qualcomm's. When the company released its first iPhone, it turned to Infineon (which later sold its wireless business to Intel) to supply its processors from 2008 to 2010.
Around the time it released the iPhone 5, Apple began sourcing chips from Qualcomm, which allowed it to bring its devices up to the newest network standard: 4G. Apple implemented Qualcomm's processors in its new phones from 2011 to 2013, and turned to the San Diego-based chipmaker as its sole supplier of modems in 2014 and 2015.
That transition included a $1 billion payment from Qualcomm to Apple, according to emails recently unsealed in court. Part of that payment would include $250 million to cover the technical burden for Apple to switch chipmakers, $150 million in marketing and $200 million to $600 million in incentive payments.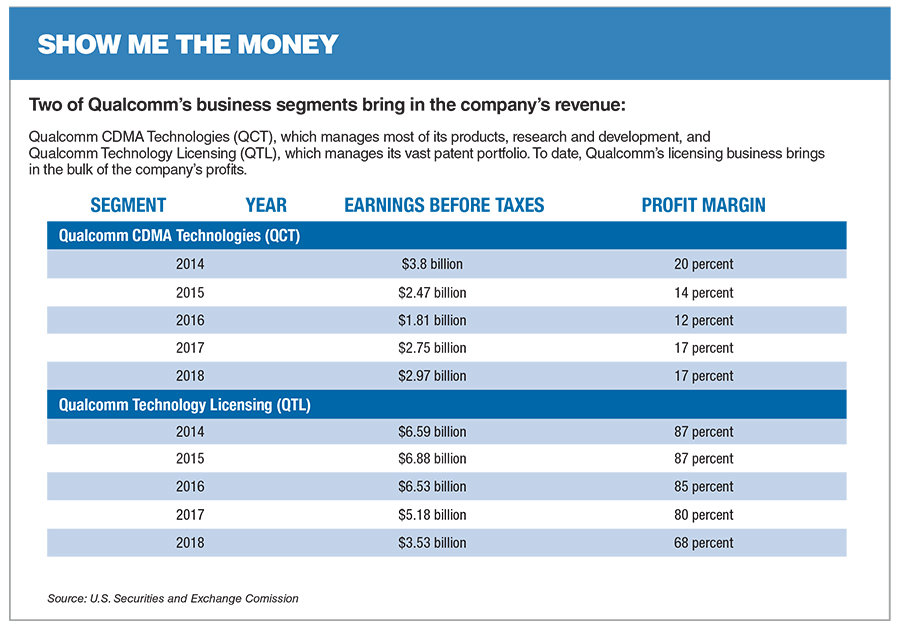 Mollenkopf Testifies
The FTC has characterized the deal as a move by Qualcomm to block competitors from the market. But in his testimony on Jan. 11, Qualcomm CEO Steve Mollenkopf claimed Apple approached them with the proposal, asking for the $1 billion as an incentive payment. According to Reuters, Mollenkopf said the unusually large payment amount was why Qualcomm sought to become Apple's exclusive supplier of modem chips.  
The 2010 emails leading up to the "Maverick deal"— Qualcomm's internal code name for Apple — appears to show some haggling between the two companies. In an email exchange with Qualcomm executives, Mollenkopf suggested not rushing the deal and pushing back on the numbers for rebate payments.
"We need to understand what level of pain we are willing to take to get this business," he wrote. "What is our walkaway?"
The Lawsuits
Apple signed another three-year agreement in 2013 to exclusively use Qualcomm's chipsets in its phones and tablets. Then, things began to fall apart.
In 2017, the FTC filed its antitrust case against Qualcomm. A few days later, Apple sued too, saying the chipmaker owed it $1 billion in rebates and challenged Qualcomm's intellectual property royalties.
Around that time, Apple began using Intel's processors in half of its iPhones. In 2018, it switched to solely using Intel's chipsets in new devices.
Internal documents from 2014 show Apple considered adding Intel as a second chip supplier for strategic reasons.
"(There's) no technical reason to change… so the decision to add a second modem supplier is first and foremost strategic and will yield significant savings," Apple stated in the documents. "We want suppliers competing for our business, not trying to drive a higher allocation of market value against us."
The slides, titled "Project Hamilton," show Apple was also closely watching consolidation in the cellular chipset market. Apple noted Qualcomm's growing market share, which had increased from 19 percent in 2007 to 61 percent in 2013.
"There were certainly economic incentives for Apple to continue to use Qualcomm," said Kevin Krewell, principal analyst of San Jose-based Tirias Research. "They made a choice to go ahead and split the business with Intel. But then they went so far as to sue Qualcomm and I think that's what changed the entire tone of that relationship."

Trying to Win Contracts
Both Apple and Qualcomm have said they want to work together on future products. Yet, neither company has budged.
In his Jan. 11 testimony, Mollenkopf said Qualcomm was still trying to win contracts to supply chips for Apple's newest products in 2018.
On Jan. 14, Apple Chief Operating Officer Jeff Williams testified that Apple's strategy was to "dual source" in 2018, by continuing to use both Intel's and Qualcomm's chips in its new devices. While Qualcomm has continued to supply chips for its older products, Williams said they did not for its newer phones after the lawsuit was filed.
"In the end, they would not support us and sell us chips," Williams said. We — I contacted Qualcomm, I contacted Steve, I sent him emails, I called. We tried to get them to sell us chips and they would not."
At the core of the licensing dispute between the two tech giants — and the FTC's case — is Qualcomm's "no license, no chips" policy. Qualcomm requires customers to pay for a license for its intellectual property before they can use its chips in their devices. According to a Jan. 15 pre-trial brief, Qualcomm does this "because Qualcomm has never priced its intellectual property into its chip prices; (equipment manufacturers) that bought Qualcomm chips without a license would be using Qualcomm's intellectual property."
Qualcomm bases its licensing fees on a percentage of the total cost of the device, capped at $400.
So, at 5 percent of the total cost of an iPhone, Qualcomm could charge Apple up to $20 per device in royalties.
Apple had sought to pay 5 percent of the modem cost, or $1.50 per device. Thanks to the companies' exclusive licensing deal, Apple paid $7.50 per device in royalties. Considering Apple sold 232 million iPhones in 2015, when it still exclusively used Qualcomm's chips, that would have brought the company billions in licensing.
"The point Apple's been making is they don't want to pay royalties on the device. They just want that applied to the modem chip," Krewell said.
The Bottom Line
If the FTC wins this case, and Qualcomm is forced to change how it licenses its technology, it could significantly affect the company's main source of profit.
Currently, licensing revenues make up 23 percent of Qualcomm's top line, bringing in $5.16 billion in 2018. Looking at the company's bottom line, they're even more important, accounting for 68 percent of Qualcomm's earnings before taxes.
Qualcomm will have to make a strong case with respect to its responsibilities as a standards-setting organization, which means it helps the technical specifications for wireless standards, such as 4G LTE and 5G. Companies that participate in setting standards are obligated to license their technologies on fair, reasonable and non-discriminatory terms.
Standards-Setting Organizations
"I think it's going to be tough for Qualcomm to win this case," said Robert Stoll, a partner with Drinker Biddle & Reath LLP and former commissioner of patents for the U.S. Patent and Trademark Office. "What is important here is what is Qualcomm's obligation vis-à-vis their participation in the standard. … We do not believe that by setting something as part of a standard, that you should be enriched by that standard."
In the big picture, the outcome of this case could have sweeping effects on companies that participate as standards-setting organizations.
Qualcomm, for its part, warned in its pre-trial brief that a ruling in favor of the FTC could "…reconfigure an entire industry, upend hundreds of existing business relationships, and stifle continued innovation in cellular technology."
"Everybody's watching," Stoll said. All of the major chipmakers have licensing issues. … I think this is important for establishing and clarifying what the responsibilities are."
It's not yet clear what the exact consequences will be for Qualcomm if the FTC wins its case, wrote Ross Seymore, a senior analyst for Deutsche Bank.  
He predicted that the testimony and pricing information shared in court may embolden Qualcomm's customers to file their own disputes. And, a more imminent consequence: It could affect Qualcomm's ongoing legal and business dealings with Apple.
"…we see that the stakes are getting higher for Qualcomm, as findings from the U.S. FTC trial could likely impact the Apple vs. Qualcomm trial," he wrote in a research note.
That case is slated to begin on April 15, in the U.S. District Court for the Southern District of California.
Closing arguments in the ongoing FTC case in U.S. District Judge Lucy Koh's San Jose courtroom are slated for Feb. 1.