December Home Sales Are Down 19.9%
Sunday, January 27, 2019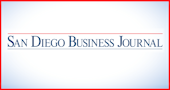 Home sales took a sizable drop in December, according to the Greater San Diego Association of Realtors — dropping 19.9 percent from December 2017 for single-family homes and 32.5 percent for condominiums.
"December can be a slow month, historically, but as we enter the new year, we are continuing to watch for an improved base of home sales inventory," said association President Kevin Burke.
"Sellers may continue to have the upper hand, yet buyers will hopefully have more choices with which to bargain," Burke said.
The most expensive home sold in December was a 9,700 square-foot La Jolla model built in 1939 that went for $13.6 million.
Carmel Valley had the most single-family sales — 40 in December.