Ampersand Move Punctuates Qdoba's Ownership Change
Sunday, January 27, 2019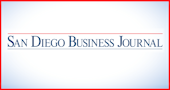 Qdoba Mexican Eats is moving its corporate headquarters to Ampersand, the former home of The San Diego Union-Tribune.
The corporate offices will take the entire fourth floor of Stack, the five-story building that once housed the news and business operations of the newspaper.
A second Press building makes up the rest of the campus.
Qdoba is taking about 35,000 square feet of space and is the second major tenant to lease space in Ampersand.
Encore Capital Group has leased the entire third floor of the two-buildings — 90,000 square feet — including what was once the newsroom and a 5,000 square-foot portion of the first floor.
In all, Ampersand has 340,000 square feet of office space.
The campus was renovated by The Casey Brown Co.
Matt Carlson, Ryan Grant and Jeff Oesterblad of CBRE represented The Casey Brown Co. David Marino of Hughes Marino represented Qdoba.