Estate Planning Startup Raises $2 Million
Thursday, January 24, 2019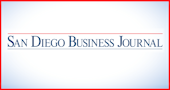 A few months before getting married, Cody Barbo and his wife sat down to make a plan. It wasn't about wedding cakes and flowers, but financial logistics.
"We sat down and had the fun conversation about setting up joint bank accounts, life insurance and getting a will," Barbo said.
Setting up the bank account was easy enough, and they had life insurance through their work. But when it came to writing a will, Barbo didn't know where to go.
"I couldn't think of any modern company when it comes to setting up a will," he said.
That idea led Barbo to found Trust & Will, a downtown San Diego startup looking to bring a TurboTax-like model to estate planning. The company allows users to create and store state-specific paperwork online for trusts, wills and guardianship. It added the latter feature after finding out many of its users were parents, looking to appoint legal guardians for their children in a will.
Trust & Will charges an upfront cost for filing: $39 for guardianship, $69 for a will and $399 for establishing a trust. Though it launched its first product in April of 2018, the company already has 10,000 users.
Like many of its users, Trust & Will's 10-person team are predominately in their 30s, starting to buy houses, have kids and go through big life changes.
While planning for what happens after your passing might sound morbid, Barbo said he sees it as a way of caring for the people you're closest to.
"Estate planning is back-of-mind," he said. "People understand the importance of it, but are not exposed to a modern, clean, well-branded app that doesn't focus on death."
The company closed on $2 million in seed funding last year, including a $1.5 million seed round with participation from Western Technology Investment, Revolution Ventures, Luma Launch and Halogen Ventures. It also raised $530,000 in pre-seed money from local investors, including local venture capital firm Wolfpack Ventures, and Techstars.
"… the most compelling opportunities are often in antiquated industries that have been slow to innovate for various macro, regulatory and social reasons. Trust & Will is capitalizing on this insight to transform estate planning in time for the largest wealth transfer in history to current generations and beyond," Colin Greenspon, partner at Revolution's Rise of the Rest Seed Fund, said in a statement.
Many of those connections were made through the John G. Watson Quick Pitch Competition, where Trust & Will took third place in 2017, and Techstars Anywhere, which it graduated from last April.
"We just kind of took off from there," Barbo said.
Currently, Trust & Will is adding to its staff and building out partnerships with financial institutions to make the process more seamless for users. For example, the company works with MassMutual Life Insurance, which includes Trust & Will's features in its packages for policy holders.
"It starts to open the doors to those legacy financial institutions as well as modern players in the fintech space," Barbo said. "It extends into real estate, investments, and people's ownership of a business. We want to make it as seamless as possible."
Barbo also hopes to see more states allow wills to be filed online. Nevada and Indiana currently allow "e-wills", and they will soon be permitted in Arizona.