ResMed Reports Second Quarter Results
Thursday, January 24, 2019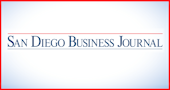 San Diego's ResMed posted quarterly earnings of 86 cents per share, with adjusted earnings of $1 per share.
That beat a Zacks Investment Research survey of analysts, who expected adjusted earnings of 93 cents per share.
Revenue in the second quarter was $651.1 million, according to ResMed, an 8 percent year-over-year increase, but missing Wall Street expectations. Analysts anticipated $667 million in sales, per Zacks.
Income from operations rose 8 percent compared to the prior period, reaching $157.1 million, according to ResMed. The company makes masks and other devices – many digitally connected – for treating respiratory issues.
"We had a solid quarter with top-line growth and gross margin expansion, as well as continued fiscal discipline to drive leverage and improved operating profit", said Mick Farrell, ResMed's CEO. He noted during the period ResMed launched new masks in many markets, and the company bought MatrixCare and Propeller Health.