Mollenkopf Gets $6M in Options After Leading in Tough Year for Qualcomm
Thursday, January 24, 2019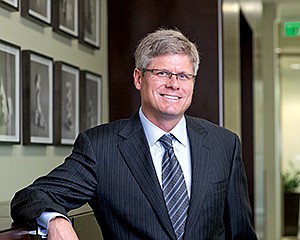 Qualcomm Inc. CEO Steve Mollenkopf was granted $6 million in performance stock options last September for his "strong leadership and performance during recent extraordinary events," according to the company's shareholder proxy, filed Jan. 24.
The one-time offer came after a tumultuous year for Qualcomm (Nasdaq: QCOM), that saw the company dodge a takeover attempt from Broadcom Ltd., lose its own acquisition of NXP Semiconductors NV, and fight litigation related to its licensing practices.
The stock options will be tethered to Qualcomm's stock performance; specifically, shareholders must see an average return of 25 percent or more, including both dividends and Qualcomm's stock price. At the time of the award, Qualcomm's stock was valued at $74.60. The company's stock opened at $51.95 on Jan. 24.
That goal must be reached for 20 consecutive days in the next two years, or else the options will be forfeited.
The options boosted Mollenkopf's total compensation last year to $19.98 million, up from $11.98 million in 2017. That included a base salary of $1.13 million, unchanged from last year, and $10 million in stock awards.
The only other executive to get a raise last year was Cristiano Amon, who was promoted to company president in January of 2018. Amon's base salary was increased from $750,000 to $900,000, and he received $3 million in restricted stock units to reflect his new role. His total compensation increased from $8.75 million in 2017 to $13.62 million last year, according to the proxy filing.
Per new requirements through the Dodd-Frank Act, all publicly-traded companies must disclose the ratio of CEO-to-employee pay. For Qualcomm, its median employee compensation was $85,592, making for a pay ratio of 233:1.