Cybersecurity Startup AttackIQ Hires Two Executives
Thursday, January 24, 2019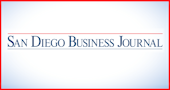 After naming a new CEO in November, San Diego-based cybersecurity startup AttackIQ has added two new executive positions.
The company hired a new chief information security officer and a new vice president of engineering on Jan. 24.
Christopher Kennedy will join AttackIQ as the company's new CISO and vice president of customer success. He will be oversee the company's internal information security strategy, as well as customer relations.
Kennedy previously worked for Bridgewater Associates, where he served as the head of security for infrastructure technology and controls engineering. His past experience also includes heading up cybersecurity operations for the U.S. Marine Corps and the U.S. Department of Treasury.

"I'm delighted to be joining the AttackIQ team. After a career of trying to answer the key security executive question of 'what is my risk posture today?', I firmly believe that breach simulation and continuous security validation will become the heart of the CISO program," Kennedy said in a news release.
Vinod Peris will serve as the AttackIQ's new vice president of engineering. In his new role, he will lead the company's development team, helping measure and validate its customers' security controls. AttackIQ currently helps businesses test their security systems by simulating cyberattacks.
Peris joins the company from Cisco, where he headed up multiple engineering groups.
"With today's threat landscape, enterprises need more than just prevention strategies to protect against a modern adversary. AttackIQ is unique in that it is an extensible platform that enables you to exercise and validate your security controls by creating controlled adversarial behavior in the network and on the endpoint," Peris said in a news release. "I'm eager to join such a visionary team of technologists and look forward to supporting our customers with powerful yet easy-to-use security solutions."