FORGET GUESSING OR EVEN GOOGLING TO NAVIGATE NEW TAX LAW, YOU ARE GOING TO NEED EXPERTISE
A Taxing Journey
Tuesday, January 22, 2019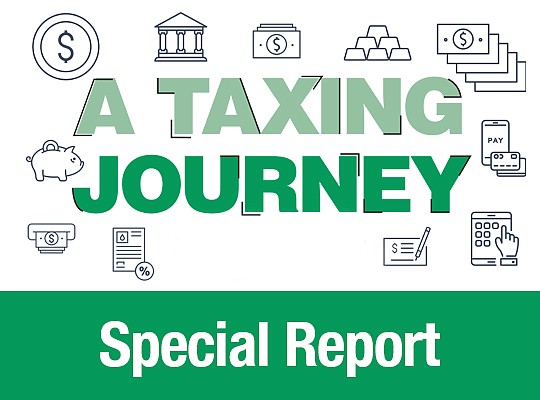 Five Things to Know About the New Tax Act
Here are some key provisions of the Tax Cuts and Jobs Act:
• 21 Percent corporate tax rate and repeal of corporate amt (alternative minimum tax) — A considerable reduction in the tax rate (from 34 percent).
• New limitation on interest expense deductions — Companies will need to look at their leverage model as interest deductions are effectively limited to 30 percent of EBITDA (earnings before interest, taxes, depreciation and amortization).
• Reduced rates for individuals — Tax rates were lowered across the board, with the maximum rate dropping from 39.6 percent to 37 percent.
• 20 percent pass-through deduction on qualifying income — This was one of the most significant "wins" for small-business owners, as it allows for an immediate deduction of up to 20 percent of income from qualifying activities (bringing the 37 percent rate mentioned above down to 29.6 percent).
• Changes to deductions for individuals — The standard deduction was increased dramatically, but what may impact San Diegans the most is the limitation on deductibility of state and local taxes. It's important to consider this impact along with the lower rates, as the end result for many San Diegans might not be the expected decrease in taxes.
Lastly, always connect with your tax adviser to see how these specific changes would apply to you and your business.
— Courtesy of Kevin Dusi, partner with
Moss Adams LLP
The Tax Cuts and Jobs Act of 2017 is many things.
It is big. Its changes are sweeping.
The new federal tax law "affects all of our individual clients and business clients," said Michele Barrow, partner at Lavine, Lofgren, Morris & Engelberg LLP in the University Towne Center neighborhood of San Diego.
The new tax law is esoteric. To hear accountants talk, it is a thicket of fine points and footnotes. Among the minutiae: sporting events, such as a golf trip or a luxury box at the stadium, are no longer deductible expenses.
It is a work in progress. More than a year after it passed, the tax law is still being interpreted, and CPAs are waiting for more interpretations.
And it is a monopolizer of conversations. Some 75 percent of his firm's discussions seem to revolve around it, noted Raj Rajan, managing director at CBIZ MHM LLC in Irvine, who is a tax practice leader for all of his firm's California offices.
The 2017 tax overhaul was the work of President Donald Trump and the then Republican-dominated Congress. It is both business-friendly and very complicated.
Prev Next