DINING: RESTAURANT GROUP KNOWS EACH VISIT COUNTS
Consistency Cements Customer Retention
Tuesday, January 22, 2019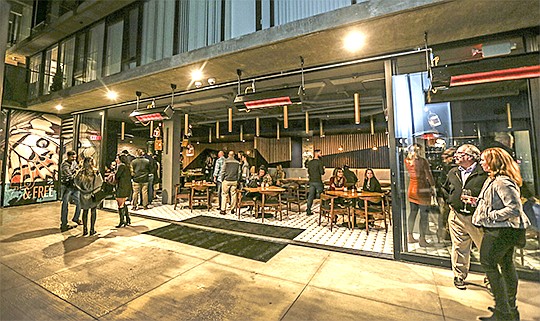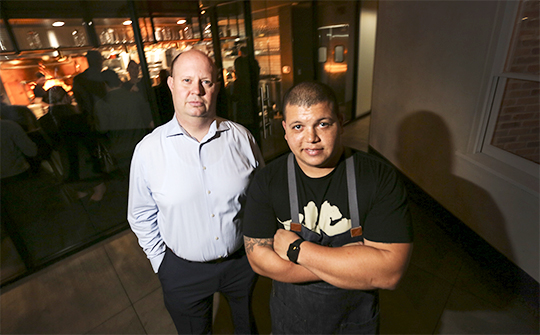 TRUST RESTAURANT GROUP
Co-Owners: Brad Wise and Steve Schwob
Revenue: $5.5 million in 2018, projected revenue for 2019 is $10 million
No. of employees: Approximately 130
Headquarters: Hillcrest
Year founded: 2016
Company description: A local restaurant group that owns and manages Trust Restaurant, Hundred Proof cocktail bar in Hillcrest, and Fort Oak restaurant and bar in Mission Hills.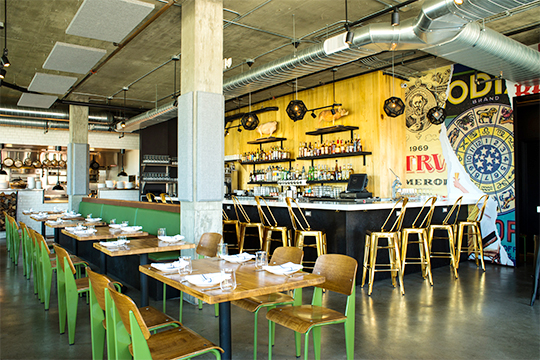 For co-owner and Executive Chef Brad Wise and his Trust Restaurant Group, things have been moving rather fast.
In 2016, the same year the restaurant group was formed, Wise and partner Steve Schwob opened Trust restaurant, a wood fire cookery, in Hillcrest.
Hundred Proof cocktail bar, in University Heights followed in 2017. And, last week, Fort Oak, a restaurant and bar with a focus on seafood in Mission Hills, officially launched.
Wise, who attended the Academy of Culinary Arts in Atlantic City, says the rapid growth of the Hillcrest-headquartered company can be attributed to one very specific trait: consistency. This, the 33-year-old says, is why Trust Restaurant Group patrons keep coming back.
"When you go to a restaurant and have a good dinner, and then you go back and it's just not good — there is nothing worse than that," said the married father of one. "We are not perfect, but, we strive every day to be consistent. Our motto is the guest comes first, and then consistency is everything. And, people keep coming back for that."
It is this level of constancy that has created notable fanfare around the Trust Restaurant Group properties, thus, prompting the group's expansion and garnering accolades.
$5.5 Million in Revenue
Today, Trust Restaurant Group has around 130 employees and boasted a revenue of $5.5 million in 2018. With the opening of Fort Oak, which was originally slated for a fall 2018 debut but faced construction delays, Wise believes the company will be in the $10 million neighborhood by the end of this year.
"For us, it's all about consistency, execution and people," said Wise, adding that a guest favorite is the oxtail raviolini. "It doesn't necessarily have to do with our view or location — we are actually off the beaten path. But, people keep coming back to us because of our service and our program."
Alex Benes, culinary director of Wood Ranch BBQ & Grill in San Diego, says the method of uniformity that Trust has focused on is key in retaining customers. First and foremost, you have to serve good food and have good service, he says, but, truly, the best way to keep guests coming back is to be dependable.
"It's essential," said Benes. If you are good, consistent and serve good food, things could work out well for the restaurant group, he added.
Dream Job
Wise, who oversees the culinary operation in all three Trust locations, had his eyes set on a career in the food industry since his youth. As a child, he spent a lot of time at The Washington Inn, a popular Cape May, New Jersey, restaurant where his mother waited tables. He remembers going in to see her work and being riveted by what the chefs were cooking up in the back.
"I was fascinated by what they did in the kitchen," Wise said. "I just liked the rush and the adrenaline of it. It was also like my second family."
In high school, he told his mom he planned on skipping the SAT, the standardized test widely used for college admissions, because, he knew he wouldn't attend college and, instead, planned on being a chef. He attended culinary school for two years and, after a couple of his buddies moved to San Diego and raved about the weather and the food scene, he packed up his bags and moved west. That's where, while working as executive sous chef at Pacific Beach's JRDN Restaurant at Tower23 Hotel, he met Schwob, who handles all front of the house operation for the group, including overseeing management.
Schwob, a Nevada-native, had a background in the fine-dining scene and had also moved to San Diego in hopes of carving out a niche in the food industry.
During a vacation in San Francisco together, while the two enjoyed a meal, Wise and Schwob decided they'd try their hand at launching their own food place. Schwob brought along a friend, who became the company's sole investor, and things took off from there.
The Challenges
Wise says he has faced his share of snags along the way, including the unforeseen delays with Fort Oak's opening and the statewide issue of rising minimum wages. Of the latter, he says, unfortunately, this means he has to raise menu prices to be able to subsidize cost.
When it comes to staffing, Wise says he's had luck with those he works alongside with. In fact, when asked what words of wisdom he'd share with others hoping to follow in similar footsteps, he said: "Keep the people you trust and share the same common interest with close, because, you can't do it alone."
As for what the near future holds, Wise says the Trust Restaurant Group doesn't plan on rushing into any other ventures any time soon.
"We added three restaurants in three years because it was the right timing and the right deals," he said, but now he plans on sitting back and focusing on profitability while ramping up Fort Oak.
Wise and Schwob tapped San-Diego-based design company GTC Design to help bring their vision to life with the newest property.
During opening night last week, Wise could be seen flipping handmade patties on a state-of-the-art 7,000-pound grill, adding mayonnaise to the buns before lightly grilling them and passing the finished burgers out to guests sitting alongside the wrap-around counter. But, he wasn't doing it alone. He had his team in tow.