TOURISM: DELAYS LEAD TO LOCAL OWNERSHIP FOR NEW HOTEL PLANNED IN ENCINITAS
Catching A Break
Monday, January 21, 2019

Back in 1989, some developers had a plan to build a fancy hotel on a seaside Encinitas bluff overlooking the ocean and South Ponto Beach.
Nothing came of it.
In 2005, it looked like something might really happen when a stairway was built from the top of the bluff to the beach parking lot below. By 2008, all the required permits were in hand.
Then the financial crisis hit. The plan was shelved.
Now, the hotel is back.
Fenway Capital Advisors and JMI Realty acquired the 4.3 acre site in late 2017 from KSL Resorts and Goldman Sachs and have started construction of a $110 million hotel they're temporarily calling the Encinitas Beach Hotel — built right into the bluff to blend in with the contours of the land.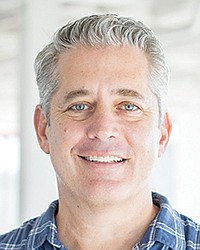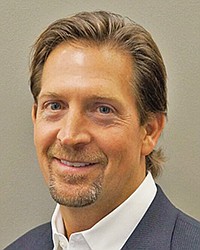 Sports Shinko Co. had owned the property, with plans to use it as a beach club for the La Costa Resort and Spa, which it also owned.
Unable to secure financing, Sports Shinko sold the Encinitas property and La Costa Resort and Spa to KSL Resorts in 2001. KSL brought in Goldman Sachs as a partner in 2007.
"It really needed a local buyer who understands Encinitas," said Larry Jackel, a managing partner of Fenway Capital Advisors who is overseeing the project with John Kratzer, president and CEO of JMI Realty.
JMI developed Petco Park, among other projects, and Kratzer was the lead consultant in preparing San Diego State University's proposal for redeveloping the SDCCU Stadium site in Mission Valley.
This is the first ground-up hotel development for Fenway Capital, which specializes in buying property and renovating it.
Major renovation projects Fenway has done include a multi-tenant office building at 674 Via de la Valle that is the company's headquarters, Pacific Gateway Towers in Oceanside, Cabrillo Medical Center in Kearny Mesa and the multi-tenant Wateridge Pavillion office building in Sorrento Mesa.
Jackel, a San Diego native, lives in nearby Rancho Santa Fe and Kratzer lives in Solana Beach.
Casual Elegance
Casual elegance is how Jackel and Kratzer describe the 130-room hotel they're building at the intersection of North Coast Highway and La Costa Avenue.
"It's very luxurious, but you're not afraid to walk around with flip-flops at the same time," Jackel said.
"We want that hotel to feel like it belongs in Encinitas. We want it to reflect the coastal culture," Kratzer said, a culture he described as "very eclectic, environmentally aware, focused on health and wellness."
"There's a lot of people who hang surfboards on the wall and say that's the culture. We want it to be more," Kratzer said.
Beach Cafe
The hotel will include a 1,000 square-foot bicycle and beach café along North Coast Highway where bicyclists can stop for refreshments or to make repairs, a 1,000 square-foot spa open to the public with five treatment rooms, a fitness center for guests, a 4,105 square-foot main restaurant and lounge along North Coast Highway, a 1,410 square foot restaurant terrace, a 1,925 square foot outdoor bar, 11,060 square feet of meeting space, and three wedding venues.
Room rates have yet to be set, but Kratzer said they would be similar to competing hotels, which he sees as L'Auberge Del Mar, The Lodge at Torrey Pines and Surf and Sand Resort in Laguna Beach.
The Visitors
A typical guest would be "someone with a high disposable income who leads an active life and is environmentally sensitive," Kratzer said, adding that during the week, the hotel will likely cater to corporate clients while on weekends, it's likely to attract wedding parties.
As part of the project, 45,000 cubic yards of sand that's being carved out of the bluff for the hotel will be moved to the beach below to replenish it, covering what has become little more than a pebbly shoreline due to erosion.
A new walking path also will be built for beach access directly from Coast Highway.
In designing the hotel, Rick Rounds, associate principal of Joseph Wong Design Associates, said the objective was "to create an artistic distinctive luxury coastal resort in a stunning setting that offers comfortable elegance and a unique sense of place."
"We arranged the hotel so we can capture the views as much as possible," Rounds said, with the rooms facing the water and wide balconies built in to bring the outdoors inside.
'Like a Living Room'
"A lot of it is getting out there and experiencing," Rounds said.
Wong said the hotel is meant to feel "like a living room for the north coast and the city."
Scheduled to open in 2021, the hotel will be managed by Two Roads Hospitality and carry the brand of the Alila Hotel and Resorts, based in Singapore.
"It's huge for San Diego County to have that brand," said Alan Reay, president of Atlas Hospitality Group. "It's a phenomenal location, great brand."
Alila is known internationally for top quality hotels, and this will be one of only two the company has in the United States. The other is in Big Sur.
The hotel project has drawn strong support from several long-time residents.
"In general, these guys seem sensitive to what's going to work here in Encinitas. It's not just another hotel that's going to be plopped down, cookie-cutter like," said Paul Ecke III, whose family has farmed flowers in the region for generations.
"I think it's going to have a nice feel. One of their tag lines is it's barefoot luxury. I think that's great," Ecke said. "I don't want to walk into the Four Seasons. I don't want to be all dressed up and stuffy. It feels like these guys are trying to fit in, which is nice, because we're going to have to live with it."
Ecke said the hotel will be "a quantum leap up in just new, modern, stylish hotel opportunities."
"Right now, somebody comes to visit, I send them up to Carlsbad. We just don't have the hotels that I think we really need," Ecke said. "The other part that's going to be nice is to have a nice, beachfront restaurant and bar. I think that's going to be wonderful. I'll probably wind up walking down there and having a drink and a meal on more than one occasion."
Tax Revenue
The project also will bring much-needed tax revenue to the city.
"We don't have the car dealerships, we don't have the malls that Carlsbad has," Ecke said. "We need tax revenue in general."
Jackel estimated the hotel would annually generate $1.5 million to $2 million in tourist occupancy taxes.
Charlie Marvin, a founder of the Leucadia 101 Main Street Association and owner of the Leucadia Beach Inn, said the new hotel will provide a long-awaited anchor to the north end of Encinitas and a place for local business gatherings.
"We will have convention capabilities that we don't have now," Marvin said. "When we have business groups try to get together, often they have to go out of town."
Marvin also likes the design of the hotel.
"It fits in very well with the hill up there. You don't have some 45-story building," Marvin said. "It follows the contours of the hill up there."
Real estate reporter Ray Huard may be reached at rhuard@sdbj.com or 858-277-8904.