Ballast Point Opens Brewpub in Anaheim's Downtown Disney District
Monday, January 21, 2019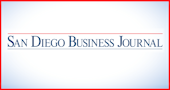 San Diego-headquartered Ballast Point has opened Ballast Point Brewpub at Downtown Disney District at the Disneyland Resort. According to a press release, the brewpub, which offers more than fifty styles of beer, marks the first time a brewery has opened at Downtown Disney District.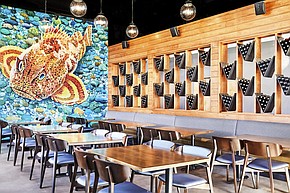 The new brewpub, led by Anaheim Brewing Managers Chris Klein and Andrew McGregor, will feature a 4,000 square foot glass-enclosed bar and restaurant as well as a 3,000 square foot outdoor beer garden that will have cabana-style seating, among other amenities. The main taproom seats 220 and has several semi-private and private spaces to accommodate group events.
An on-site three-barrel brewing system will offer the brand's iconic beers as well as limited-edition brews exclusive to the Downtown Disney District location. The space will also have a food menu curated by Ballast Point's new Executive Sous Chef, Joey Lerma, that will include dishes like Baja-style fish tacos, house-made pretzel with beer mustard and kid-friendly offerings like quesadilla and grilled cheese.
"Ballast Point is born and raised in Southern California, so, we're particularly excited to strengthen our relationship with the local Anaheim community and beyond this, the many guests who visit Disneyland each year," said Ben Dollard, president of Ballast Point, via a statement. "This new location also gives our passionate brewing and culinary teams the perfect place to test new and inventive offerings, as we welcome longtime Ballast Point fans and introduce new guests to our brand."
With the addition of the Anaheim location, Ballast Point, founded in 1996, will have a total of nine tasting rooms nationwide. This includes those in San Diego, Long Beach, Virginia and Chicago. In spring 2019, a brewery and kitchen will open in San Francisco, marking its first location in Northern California.
In 2015, Ballast Point was acquired by Constellation Brands Inc., the company behind Robert Mondavi Wines and Svedka Vodka, for $1 billion. The Ballast Point brewpub at Downtown Disney District, located at 1540 S. Disneyland Drive in Anaheim, will be open seven days a week from 10am to midnight.
Travel & Hospitality reporter Mariel Concepcion can be reached at mconcepcion@sdbj.com or 858-634-4625.