PROPERTY: AMENITIES, STYLE AND EVEN TENANT ROSTER ADD TO IN-DEMAND LOCATION
Tower 180 Aims to Be Contender In the Downtown Market
Sunday, January 20, 2019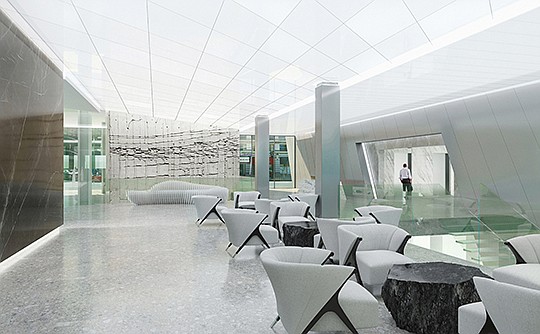 HAMMER VENTURES
CEO: Jonathan Hammer
Headquarters: Downtown San Diego
Year Founded: 2000
Revenue: Undisclosed
Description:  Hammer Ventures is a group of real estate ventures primarily dedicated to the acquisition and development of multifamily, office, and mixed-use properties in Southern California. It has developed a portfolio valued more than $2-billion which includes over 3,000 multifamily units and over 1-million square feet of commercial space.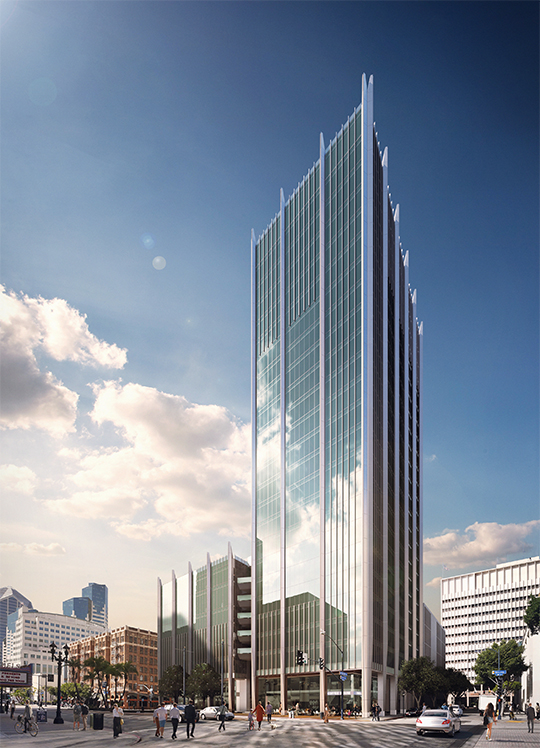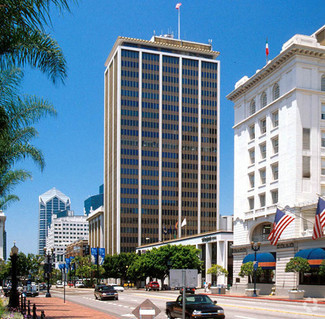 A down-and-out office tower in the heart of downtown San Diego is getting a dramatic remake and a new name by a developer who said it's turning this once grand structure into top-notch office space that will command top rents.
Built in 1963, the 25-story tower at 1010 Second Ave., is in the midst of a $55 million renovation by Hammer Ventures as part of an ongoing trend among downtown building owners to remodel in a drive to compete with newer offerings.
The Others
Among other downtown office buildings that have been renovated or have renovations in the works are 610 W. Ash St., 777 Front St., 100 W. A St., 530 C St., 600 B St., 655 Broadway, and 1420 Kettner Blvd.
Norm Miller, chairman of real estate finance at the University of San Diego School of Business, said older downtown office buildings typically fall short of what tenants want.
"Office occupants today show much higher demand for space with natural light, so buildings from 1963 are typically obsolete, except for location," said Miller, who is affiliated with the Burnham-Moore's Center for Real Estate.
"Some can be renovated to meet today's standards. Obviously this is the expectation for Tower 180," Miller said.
Hammer Ventures bought the 345,016 square-foot building in June 2016 for $54.4 million, according to CoStar, a real estate listing agency. Renamed "Tower 180," the renovation started at the end of 2017 and is expected to be finished in the summer.
In the Right Place
"The problem some older buildings have is that they may not be in the right place to get the kind of tenants they want," said Dana Kuhn, a lecturer at San Diego State University's Fowler College of Business. "This is a pretty good central downtown location."
The building is within walking distance of San Diego City Hall and the county and federal courthouses.
"Tower 180 has always been a Class-A location in downtown San Diego," said Lawrence Howard, director of development at Hammer Ventures. "Our renovation seeks to create a world-class building that is worthy of its best-in-class location."
Carrier Johnson + Culture is the architect on the project and Sundt Construction is the general contractor.
"The building was an older structure that was largely unmaintained for some time by previous owners," Howard said. "We are replacing the entire façade with beautiful glass, improving the sidewalks, completely renovating common areas, replacing all major building systems, adding steel balconies and doubling the amount of outdoor amenity space."
Rooftop Patios
Among the amenities being added to Tower 180 during the renovation are a 13,000 square foot gym that will offer a variety of fitness, including spin cycling, yoga and CrossFit.
The building also will have multiple rooftop patios, totaling 16,000 square feet that can accommodate up to 400 people.
"The roof decks and outdoor amenity space are larger than any office buildings downtown and will feature food and beverage offerings, Wi-Fi, meeting space and unobstructed views of downtown San Diego," Howard said.
The lobby also is being completely redone in a look that Howard said "is best described by the term "elemental modernism,' representing earth, air fire and water."
"Common areas follow that same theme, but interior offices will be uniquely designed to showcase the distinctiveness of each tenant," Howard said.
The interior of the building had been a mix of perimeter offices and cubicle areas, similar to many other older buildings.
Judging by renderings, the color scheme of the new lobby will be a mix of blacks, whites, grays and greens, creating an illusion of almost being beneath the sea.
At the time of the sale, the building was partially occupied by multiple tenants, including the city of San Diego, law and accounting firms, and several retail shops.
Hammer Ventures hasn't said who will move into the renovated building, but promised tenants would include "new retailers that will add vibrancy to downtown and complement the stature of the building."
Marketing
Marketing is being handled by CBRE brokers Matt Carlson, Ryan Grant and Jeff Oesterblad.
Hammer Ventures' other projects include conversion of a La Jolla office building into condominiums.
The firm also plans to convert the 230,000 square-foot former Midway post office into a creative office complex.
Real estate reporter Ray Huard may be reached at rhuard@sdbj.com or 858-277-8904