Realtor Association Builds Up Holiday House's Resources
Sunday, January 20, 2019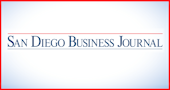 The Greater San Diego Association of Realtors Ambassadors Foundation announced that it donated $5,265 to Operation Homefront during its holiday fundraiser. Realtors from across San Diego County collected toys and gift cards for families of the men and women who serve our country to fill the "Holiday House." The donations amounted to a 50 percent increase over the amount collected in 2017.
The event was attended by nearly 160 guests at a home in Carmel Valley. Operation Homefront, a nonprofit organization, started shortly after 9/11 to meet the needs of military families in San Diego and help with everything from emergency food, car repairs, furniture and other services and resources.
Generous sponsors of Holiday House included Griffin Funding, JDog Junk Removal LLC, RanchoTed, CleanologySD, Virtuance, HomeGuard Inc., and Veterans United. Visit sdar.com.