Co.'s Donations Go From Teddy Bears to Tech Support
Sunday, January 20, 2019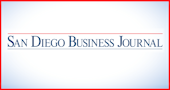 Managed Solution, a technology solution company, announced that during the holiday season, its team gave back to the community working with several local nonprofits. This holiday season it supported: Jacobs & Cushman San Diego Food Bank that provides nutritious food to people in need, advocates for the hungry, and educates the public about hunger-related issues.
Susan Kuruvilla, CEO of Managed Solution, hosted this year's Cruise 4 Kids "Teddy Ball," a charity celebration that collects new stuffed teddy bears to donate to sick and needy children at several children's hospitals, youth organizations, and special needs service centers.
Computers 2 Kids San Diego is another organization it has been collaborating with for years. This year Managed Solution staff prepared used computers and other IT equipment as donations. Visit managedsolution.com.