Western Lighting Goes Employee-Owned
Thursday, January 17, 2019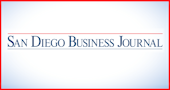 Western Lighting and Energy Controls has become an employee owned company by forming an Employee Stock Ownership Plan (ESOP) trust.
"This transaction will give our dedicated employees a financial interest in the success of our company, making the positive bonds between our teams even stronger than they are today," said company principal Matt Sedlock.
"It represents a very tangible way to reward those who have played an important part in our company success. Delivering unparalleled service requires great employees who are passionate about their work, focused and dedicated to our business and customers."
An ESOP is an employee benefit plan which provides company stock to employees as part of their retirement benefit plan. By becoming ESOP-owned, all company stock is now held in trust by the ESOP.
In business for more than two decades, Western Lighting and Energy Controls has offices in the Sorrento Mesa area and in Costa Mesa.
Last year saw the company grow by 10 employees to 53.
Jimm Reifsnyder is also a principal of the company, which announced its new ESOP structure in early January.