Retrophin Names New CEO
Thursday, January 17, 2019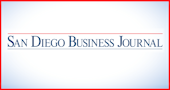 Earlier this month San Diego-based Retrophin's board appointed a new president and CEO: Eric Dube.
Dube came from ViiV Healthcare, a subsidiary of GlaxoSmithKline, where he was president of North America. He succeeds Stephen Aselage, who became CEO in 2014 and recently retired.
Prior to Viiv Healthcare, he worked at GlaxoSmithKline for more than 18 years, in roles including leading the U.S. oncology and global respiratory businesses.
Retrophin in a news release said Dube's talents mesh with the company's mission of delivering rare disease therapies.
He holds a Ph.D. and master's degree in psychology from Cornell University and received his bachelor's in biopsychology from Santa Clara University.
Jan. 4 marked Dube's first day on the job.