TECH: PLATFORM CONNECTS SENSORS, AGGREGATES DATA INTO ACTIONABLE ANALYSIS
Sensemetrics Enables Sensors to Join in the Conversation
Wednesday, January 16, 2019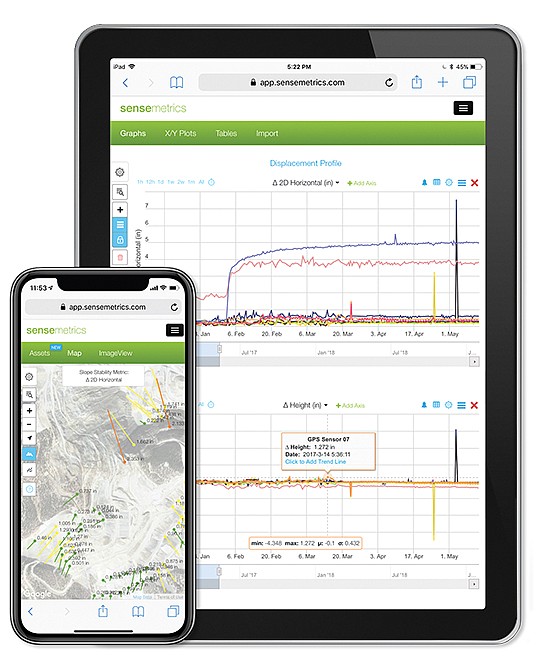 SENSEMETRICS
CEO: Matt Meehan
Funding Raised to Date: $10 million
Number of local employees: 30
Investors: X2 Equity, Mooring Ventures, Three Curve Capital
Headquarters: Downtown San Diego
Year Founded: 2014
Company Description: Sensemetrics' industrial internet-of-things platform connects a wide variety of sensors and aggregates the data for energy, mining and construction companies.
Most consumers are familiar with in-home IoT devices, such as smart doorbells and voice assistants.
But a much bigger group of gadgets is being created for industrial uses, such as open-pit mines, where thousands of sensors are used to monitor the stability of slopes.
There's just one problem: these devices don't "talk" to each other.
That's what led Cory Baldwin to found his startup, Sensemetrics, in 2014. The company's platform connects sensors from a number of big industrial brands, and it aggregates that data into real-time reports.
Previous Process
Matt Meehan, the company's CEO, said the process of gathering this data previously involved collecting data from various sensors, bringing it back to a computer, and then making sense of it all.

"An immense amount of time is just spent trying to get data into some type of shape to look at," Meehan said. "That would take weeks from the time of actually getting (results). You're lacking real-time operational insight into what's going on."
Weeks of lag time mean time lost that could be spent addressing a potential safety issue or structural weakness.
For example, sensors are used to manage the water content of areas where miners drill for ore and other materials. Maintaining a steeper slope allows miners to extract more ore, but if there's too much water, the slope can slide. Similarly, Sensemetrics' platform is also used to monitor the structural integrity of dams.
'Beginning of the Adoption Curve'
"The need to monitor these assets is pretty significant. Mining companies have known about it for years now that the value of having all of this data in real-time is clear to them," Meehan said. "I think we're at the beginning of the adoption curve."
By 2020, the so-called industrial internet could be a $225 billion market, according to GE. But the stakes are higher than in consumer IoT, where a dropped network connection might just mean you have to reach for a remote to change the volume on your TV.
According to a 2014 report by the World Economic Forum, industry leaders said their biggest barrier to adoption was a lack of interoperability between existing devices, followed by security concerns.
In a relatively cautious market — mining and dam companies aren't particularly prone to risk — Meehan said the company was able to make inroads through existing connections.
"Our existing credibility is what let us launch new products into a pretty conservative industrial market quickly," he said. "A lot of the knowledge of the problems was gained firsthand from trying to solve this exact problem with whatever was out there in terms of existing technologies."
Series A
On Dec. 11, Sensemetrics closed a Series A funding round led by Munich-based holding company X2 Equity. The company's founder and CEO, Marc Sperschneider, will also join Sensemetrics' board.
The company did not disclose the amount of funding in the Series A, but confirmed it brought the company's total investment to date just above $10 million. Local firm Mooring Ventures and Irvine-based Three Curve Capital both previously invested in the company, and participated in the most recent round.
Hiring Plans
Meehan said he planned to use the additional funds to boost Sensemetrics' headcount to 50 employees by the end of the year. Most of the new hires will be in engineering, but the company will also hire a few sales staff.
"That was a real key reason for doing the funding: being able to expand and bring more people onto the team," he said.
Meehan also plans to invest in further development of Sensemetrics' platform to improve it for industry clients, and make it easy to integrate with partner companies that develop sensors or specialized analytics.
"Early on, we did a lot of direct selling to our end customers. Now, we're also putting an emphasis on enabling partners, manufacturers, existing customers and development teams that have an app they want to bring to market through us," Meehan said. "That's where a lot of the value in IoT is, being able to optimize how you do things and operate. There are a lot of people providing pieces of solutions."
Startups and software reporter Elise Reuter can be reached at ereuter@sdbj.com.
or 858-277-6971.