Realities of Residential Real Estate
Sunday, January 13, 2019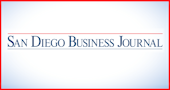 It's not exactly astonishing news, but a company that compiles all kinds of statistics on home buying — Zillow Group — reported in January that first-time homebuyers in San Diego County make more money than people who aren't in the market to buy.
The company said first-time buyers have an annual family income of $96,600 compared with an annual income of $59,700 for non-buyers.
Even so, nearly 70 percent of the homes on the market go for more than that median family can afford to pay, assuming they earmark about a third of their income for housing.
That's also assuming a price tag under $600,000 for the typical single-family home — that can be a tough find in Diego.
The commercial real estate brokerage firm Cushman & Wakefield estimated that the median sales price for detached homes was $635,000 in November.
Condominiums were going for a median price of about $397,000 in November, according to Cushman & Wakefield.