Hotel Boom of 2018 Likely To Continue in 2019
Sunday, January 13, 2019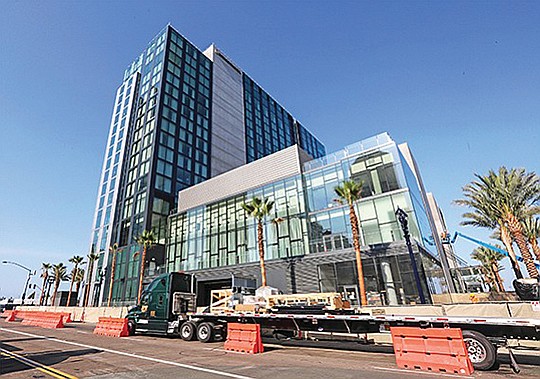 More new hotels were built in San Diego County in 2018 than in any other year since 2000, according to Atlas Hospitality Group.
San Diego also had the biggest new hotel to open in California in 2018 — the 400-room InterContinental hotel on the downtown bay front.
"It was a long time coming, but that is the largest for 2018, so that's good for San Diego," said Alan X. Reay, president of Atlas Hospitality Group.
The 18-story InterContinental opened in September, marking the brand's return to San Diego after an absence of more than 30 years.
The 250-room Legoland Castle Hotel was the second largest hotel to open in San Diego County last year.
In all, seven new hotels with a total of 1,224 rooms opened in San Diego County in 2018.
Statewide, only Los Angeles opened more hotel rooms than San Diego in 2018 — 1,526.
The previous record for new hotels in San Diego County was set in 2016, when six opened with 1,017 rooms, Reay said.
In the number of new rooms, the previous record, set in 2007, was five new hotels with 1,043 rooms.
Statewide, 52 new hotels with more than 6,500 rooms opened in 2018.
Reay said 2019 could be another record breaker in San Diego, with 17 hotels under construction at the end of 2018 and an additional 91 in the planning stages.
The largest hotel under construction in the county is the 302-room Sycuan Casino Hotel.
"A lot of the new hotel supply that we've seen has really sort of made up for the fact that we saw little or no construction from 2009 to 2014," Reay said.
During that time, it was cheaper to buy an existing hotel than to build a new one.
"We have sort of crossed over that threshold where the price of existing hotels make it a lot more attractive to build brand new," Reay said.
With construction costs rising, he said that the pace of new hotel construction will likely slow at some point.
"Labor costs have really gone up. Raw materials — steel and lumber — and the tariffs being imposed have had a big impact," Reay said.
Already, lenders are becoming more cautious about handing out hotel