Classic Beauty, Classic Charms Will Welcome You Home
Sunday, January 13, 2019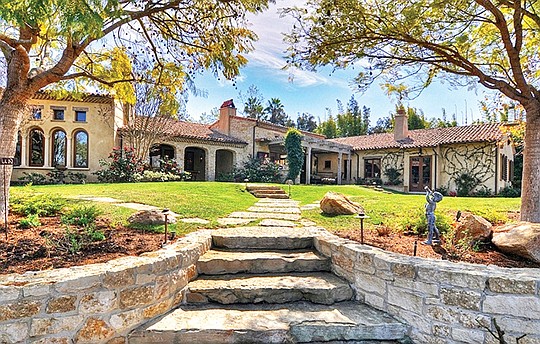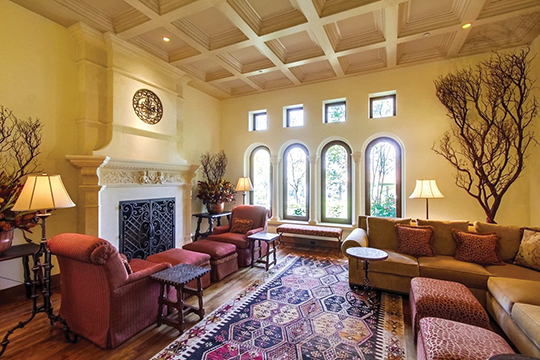 Less than a mile from the charming, historic village of downtown Rancho Santa Fe is an authentic Southern French country estate designed in 2003 by San Diego-based architect Tim Wilson of Wilson Architecture and built by renowned local luxury home builder Emilio & Sons Inc. The sprawling one-level home clad in stone and topped with red-tiled roofs is on 2.29 acres and tucked away on the back of the lot, not visible from the street. Impressive double iron gates swing open to a curving drive that ends in a circular motor court to the entrance of the home. A walled-in, gated front courtyard with lush landscaping leads to the covered veranda and the front door.
Janet Lawless Christ, a Realtor with Coldwell Banker Residential Brokerage, has the listing on the 7,255-square-foot, five bedroom, five full and two half-bath home at 6560 La Valle Plateada, including a detached 1,000-square-foot guesthouse. The one-bedroom, one and a half bath guesthouse has a full kitchen, laundry, new vintage timber pergola shading for a private patio, its own gates and a new driveway.
"I have more people — of substance — say to me 'wow I could just live in this guesthouse; I've never seen anything like this,'" Lawless Christ said.
The listing price for the property is $5.65 million.
She said the architect "literally did a European tour to get authentic materials; the roof tiles were imported from France, the fountains were imported from France — Wilson is just a visionary, lovely architect."
Lawless Christ said it's a classical French country estate property with big raw stone product and big finishes, it's "provincial but not in a "kitschy way."
When you walk into the recently updated home it's a classical layout, Lawless Christ said. There're not big vacuum spaces with soaring ceilings.
"It's old, established Rancho Santa Fe, it's not pretentious," Lawless Christ said. "When I have a showing request, I question the agent: 'If someone wants to walk in and feel like they're walking into the Ritz Carlton at Monarch Bay, this is not it.'"
Lawless Christ describes the home as very comfortable in a tactile, intentional way. She said you can be alone in a space or with 40 people and it works either way "you don't feel like it's just cavernous for no reason."
The home has a northwest facing orientation with views of treetops, rolling hills beyond and romantic sunset views. Because of its orientation it gets great light all day long without the beating heat coming in through the windows.
"A lot of properties don't even think about that," she said. "They build these great properties, but then they have to put the shades down at 1 p.m. in the afternoon, because it's too hot — this one doesn't have that."
The home has an easy indoor/outdoor flow with an outdoor living room, outdoor barbecue area and living pavilion by the pool.
Stone steps lead from various points of the rear of the home through the lush landscaping toward the pool and spa.
Lawless Christ said the character of the home is such that "You walk in and you just exhale and think 'oh this is just a lovely place where I can just be serene and happy.'"
The master bedroom has a private office. There are four bedrooms in a second wing and each is decorated in casual, comfortable luxury.
There are a lot of intimate touches in the home such as wood-beamed ceilings, seven fireplaces —each with the feel of a French country chateau — casual and formal gathering spots and delicate artwork on some of the ceilings.
"The artwork on the ceiling was painted by the grandson of the Currier of the printmakers Currier & Ives family." Lawless Christ said. "He hand painted those, those are not stencils or appliqués — very cool."
It's a masterpiece of casual elegance "it's very private, beautifully private." Lawless Christ said.
Send luxury real estate items to sglidden@sdbj.com.