WD-40 Grows Net Income 5 Percent
Thursday, January 10, 2019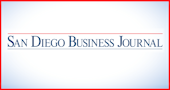 WD-40 Co., maker of the eponymous lubricant as well as a line of cleaning and lubricating products, reported net income of $13.3 million or 95 cents per share during its first quarter, which ended Nov. 30. Net income rose 5 percent from last year's first quarter.
Net sales for the first quarter of fiscal 2019 totaled $101.3 million.
The same quarter one year ago saw the company report net income of $12.6 million or 90 cents per share on net sales of $97.6 million.
The company reported sales growth in the Americas and the EMEA region (Europe, Middle East and Africa) while sales in the Asia-Pacific region fell off by 10 percent.
WD-40 (Nasdaq: WDFC) has set a goal of $700 million in revenue by the end of its 2025 fiscal year. Net sales for fiscal 2018 were $408.5 million, up from $380.5 million the previous year. WD-40 has projected 4 to 7 percent growth, with sales between $425 million and $437 million by the time fiscal 2019 ends.