ECONOMY: DEFENSE, TECH AND TOURISM TO HELP S.D. BEAT NATIONAL NUMBERS
2019 Look Ahead: Diverse Sectors Bring Balance to Economy
Monday, January 7, 2019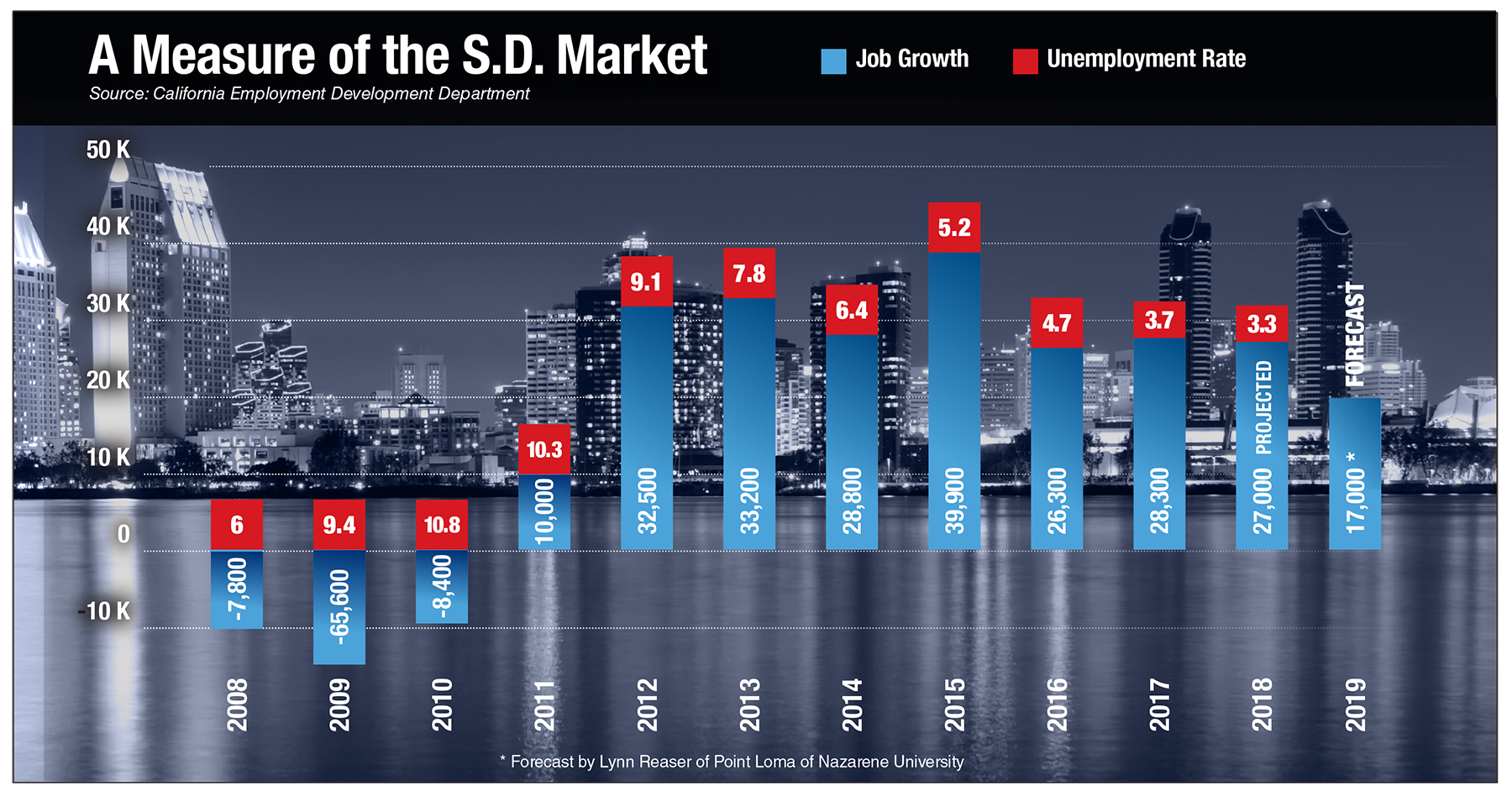 San Diego's economy will likely run faster than the national economy in the coming year.
That is the consensus of economists consulted shortly before revelers converged on the Gaslamp Quarter to welcome 2019 at midnight.
San Diego continued its run as a job-creation machine in 2018 as employers added an estimated 27,000 jobs to local companies' payrolls. That machine may not run quite as hot in 2019. Lynn Reaser, chief economist for Point Loma Nazarene University, predicted San Diego employers will add 17,000 jobs in the coming year, a 37 percent decline, though still a respectable number.
While the stock market has turned jittery, the economists said that fundamentals are solid.
For example, state government figures point to an average 3.3 percent unemployment rate in San Diego County during the first 11 months of 2018. The November unemployment rate was 3.2 percent.
Recession Worries?
"No recession in sight," said Robert Kleinhenz, economist at Beacon Economics of Los Angeles.
Slowing global growth and higher interest rates may hold back economic growth, said Point Loma's Reaser.
"San Diego's economy should slightly outperform the U.S. economy because of its core strengths in defense, technology and tourism," she said. "The military has secured significant funding for fiscal year 2019. Demand for cybersecurity, biotech and computer science applications remains strong."
Consumers might take their cues from what they see in the national news, and from the slowing housing market.
There is such a thing as a "reverse wealth effect," said Alan Gin, professor in the University of San Diego's School of Business Administration. Just as consumers feel more comfortable spending money when home values go up and the value of the market goes up (the wealth effect), they might restrain spending as they see the values of their homes decline, and the stock market decline.
San Diego will continue to feel the benefits of its diversified economy, which does not rise and fall on the fortunes of a single vertical market. Real estate, technology and tourism are just some of its facets.
CRE Outlook
Commercial real estate is expected to continue the strong pace it set in 2018 with the possible exception of single family home sales, which faltered in mid-2018 and continue to be soft.
Tim Olson, a managing director in JLL's San Diego office, said the outlook for 2019 is good with little likelihood of a slowdown, although rising interest rates could temper things.
"I think we still have enough of a runway right now with the overall economy and job growth," Olson said. "Overall, if anything, it will be a gradual flattening."
CBRE, in its third quarter report said office leasing activity was well ahead of where it was in 2017 and will likely continue its pace into 2019.
Similarly, JLL predicted that office vacancy rates will dip into the single digits on average in San Diego County, with some submarkets such as Kearny Mesa, UTC and Sorrento Mesa standing out.
JLL also predicted the office rental rates are likely to continue to rise in 2019.
"I'm optimistic," Olson said. "I think you're going to continue to see rent growth."
Brokers also report strength heading into 2019 for industrial property, with demand high for newer structures by last-mile delivery services.
If there is a weak spot in the real estate market heading into 2019, it is in single family home sales.
The San Diego Association of Realtors reported that sales in November were off by 19 percent compared to November 2017.
"Personally, I expect we'll have a relatively flat year next year," association President Steve Fraioli said in December. "It won't be great, it won't be bad."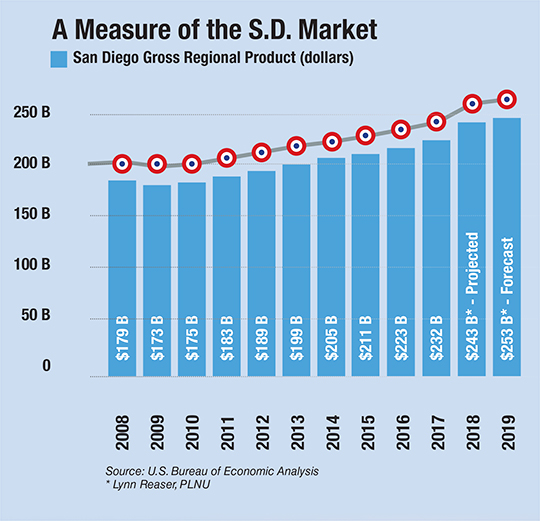 Military Presence
San Diego is expected to benefit from increases in the U.S. defense budget. Some 22 percent of the local economy is tied to Pentagon spending, according to the nonprofit San Diego Military Advisory Council (SDMAC), which issues an annual study on the subject.
The organization expects defense procurement — the buying of ships, aircraft and the enormous range of smaller items needed to run a military — to rise 5 percent in 2019, from $9.4 billion to $9.8 billion.
At the General Dynamics NASSCO shipyard in Barrio Logan, steel parts cut out to build fleet replenishment oiler ships symbolize a way forward. NASSCO has begun a multiyear project to build as few as six and as many as 20 ships of the John Lewis class, which will each be 742 feet long and displace 49,850 tons.
When counting salaries, pensions, benefits and other spending, SDMAC expects the Defense Department will spend $26.7 billion in San Diego in fiscal 2019, which ends Sept. 30.
IPOs
In life sciences, immediate attention is on initial public offerings, or IPOs.
In 2018, the region saw six biotech IPOs, while two biotechs filed IPO paperwork near the end of the year and will likely go public in the coming weeks.
Gossamer Bio has laid out plans for a $264.5 million IPO to advance a portfolio of immunology, inflammation and oncology drugs. Meeting the fundraising goal would put Gossamer on another level, considering the largest San Diego IPO in 2018 came to $131 million (Synthorx).
Cibus is poised to go public as well. In November, the Sorrento Valley-based company — which uses gene editing to select desirable plant traits — announced plans for a $100 million IPO.
The region's six life science companies that went public last year marked the best IPO year since 2014, mirroring a national trend. Will the IPO window stay open?
Companies barreling toward an inflection point include Halozyme. In the second half of the year, analysts expect key clinical trial data to be released on Halozyme's pegph20 in metastatic pancreas cancer. The program is in a late-stage clinical trial.
Looking at genomics, what moves — acquisition or otherwise — will Illumina make this year? In October, the company agreed to buy Bay Area-based Pacific Biosciences for $1.2 billion, bolstering Illumina's genetic sequencing platform dominance. Earlier in the year Illumina bought San Diego's Edico Genome.
Speaking of which, ResMed acquired three companies last year, so it may be worth watching how the deals impact San Diego's largest medical device maker in 2019.
Paying a Visit
San Diego, of course, is the place people go to take a break from work. From the cruise industry making a notable return to minor league and sporting events finding homes in the county, the region's tourism and hospitality sector seems to be on the upswing in 2019.
After the recession and violence in Mexico caused passenger count and cruise lines numbers to steadily decline for nearly a decade, the Port of San Diego's cruise business is on a path of growth. The 2018-2019 season is expected to be its best in seven years. From 2009-2010 to 2013-2014, the number of embarkations dropped from 800,000 to 183,000, according to figures from the port. In 2018-2019, passenger counts are projected to reach 295,000 and nearly 360,000 in 2019-2020.
Several ships are already calling on the port, including Holland America's Eurodam, which has increased its calls to 19, up one from last season, and Holland America's Nieuw Amsterdam, which is up to eight calls versus one call last year. 2019 will see a couple of new additions. Carnival's Miracle will be arriving in 2019-2020 with 10 calls to the Mexican Riviera, Hawaii and other destinations, making it the first time Carnival operated out of San Diego since 2012. Lastly, the Disney Cruise Line's Wonder vessel has grown to 24 cruise calls, up from 19 the previous season and just two in 2014. Overall, the economic impact of the cruise industry on the San Diego region has grown from $82 million in 2014 to approximately $131 million in 2018, according to the port.
In related news, hotel occupancy in San Diego is expected to reach 77.2 percent in 2019. This is in large part due to the number of hotels under construction in the county with anticipated open dates between 2019 and 2020. Occupancy will certainly be impacted this year due to the hosting of the Association of National Olympic Committees (ANOC) World Beach Games in October. Local organizing president Vincent Mudd said during a conference the games will attract 1,300 athletes. More than 400,000 fans are expected to attend the multisport event. Mike McDowell from the San Diego Tourism Authority added the city is projecting "tens of thousands" of hotel rooms will be occupied by athletes, their families and fans.
Similarly, minor league sports will make some noise in 2019. Starting this year, San Diego will have its very own Indoor Football League team, the San Diego Strike Force, which will play at the Pechanga Arena San Diego beginning late February; the San Diego Fleet is the football team in the new eight-city Alliance of American Football, with a season scheduled to begin Feb. 9; and the 1904 FC soccer team is now considering joining the United Soccer League's new Division III league, which is set to begin this year. The San Diego Seals pro lacrosse team plans to begin playing at the Pechanga Arena San Diego on Jan. 12. Other teams include the San Diego Legion rugby team, the San Diego Sockers indoor soccer team and the San Diego Gulls minor league hockey team.
Lastly, the craft beer and craft spirits scene will continue to be impacted in 2019. As millennials shift their preference in alcohol consumption, experts predict more craft beer breweries will continue to close this year, while more craft spirits spots will continue to pop up throughout town.
Staff writers Mariel Concepcion, Ray Huard and Jared Whitlock contributed to this story.