Rising Interest Rates Change Homebuying Equation for Many
Sunday, January 6, 2019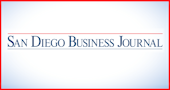 Despite a softening in the market for single family homes in San Diego, rising interest rates have offset any advantage the slowdown may have given prospective buyers, according to a company that monitors residential housing.
Buyers who expect to pay about 30 percent of their income on housing — which is fairly typical across the country — will be hard-pressed to make it in San Diego as interest rates rise, according to a recent report from the Zillow Group.
Zillow pegged the median price of a home in San Diego at $592,800 in December, which is lower than some others have estimated.
Even so, families earning what Zillow said was the median annual income of $75,831 would have to pay far more than 30 percent of their income on monthly mortgage payments to get into that median-priced home.
Zillow said the average mortgage interest rate has risen from about 4.15 percent in January 2018 to 4.63 percent heading into 2019.
At that rate, a typical family could afford to pay no more than $460,600 to keep payments within 30 percent of their income.
If interest rates rise to 6 percent, they'd have to find a home selling for $395,300 to keep payments at the 30 percent of income level — a near impossibility in San Diego.
Zillow Group cautioned that people shouldn't necessarily hold off buying in hopes that the market will swing their way.
"While it's certainly important to keep track of home values and interest rates and play your budget accordingly, buyers shouldn't base their decisions on those moving targets," said Aaron Terrazas, a senior economist with Zillow.
"In the end, the best time to buy a home is always when the time is right for an individual buyer — often when they're financially ready, when they're relocating to a new area or a major life event requires them to upsize or downsize," Terrazas said. "It's also important to remember that rates on a typical mortgage remain very low by historic standards, especially given the type of strong economic growth we've been experiencing."