PROPERTY, PEOPLE AND PERCEPTIONS OF REGION TO CHANGE WITH APPLE'S ARRIVAL
UTC Location Is Well-Suited To Co.'s Wants, Needs
Sunday, January 6, 2019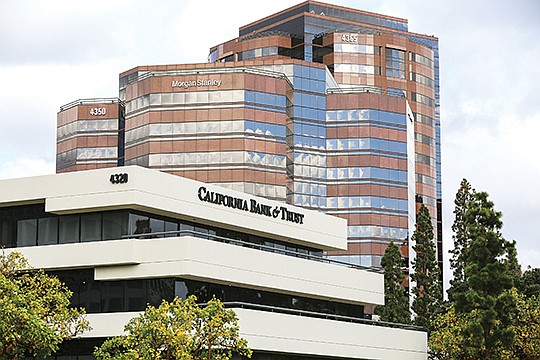 Apple Inc. is expected to lease a UTC building owned by the Irvine Co. as it brings more than 1,000 new jobs to San Diego over the next three years, according to brokers and others who are following Apple's move.
Completed in 2017, the 96,435 square-foot, three-story Eastgate Terrace building at 9779 Towne Centre Drive is vacant and is in one of San Diego's hottest submarkets for office space and one of the few with large blocks of space available.
Neither Apple nor the Irvine Co. has confirmed the move.
Neighboring Submarkets
When Apple would move into the Eastgate Terrace building and how much space it would take initially is an open question, but brokers said the result is that other nearby submarkets are likely to see an uptick in demand and corresponding rise in rents as there's less room in UTC.
According a report issued by CBRE for the third quarter of 2018 on UTC office space, Apple is looking to take 60,000 square feet to start.
Ron Miller, a senior vice president with Colliers International, said that it makes sense that Apple would take less space to start than the company will eventually use.
"It's not all in one swoop. They (Apple) cannot hire 1,000 employees overnight. It takes time to get the right people," Miller said. "I would say they would commit to the whole building and go in in phases."
Miller said Apple could later take up the rest of the Eastgate Terrace building as needed with room nearby to expand.
"You have several buildings adjacent, all owned by Irvine (Co.)," Miller said.
Brett Ward, an executive managing director at Cushman & Wakefield in San Diego, said Apple would almost certainly need more room than just the one building.
Based on parking requirements, Eastgate Terrace isn't big enough to accommodate a workforce of 1,000 or more, Ward said, "let alone them growing organically locally."
Preparing the Site
Although the Eastgate Terrace building is brand new, Miller said it's little more than an empty shell and it will take time to get it ready for move-in.
"It's going to take probably up to six months once they start moving hammers and nails," Miller said.
Ward said Apple would almost certainly want to add amenities that skilled workers have come to expect.
"There's a decent outdoor area but I imagine they're going to provide food service and fitness on their own," Ward said.
Prev Next